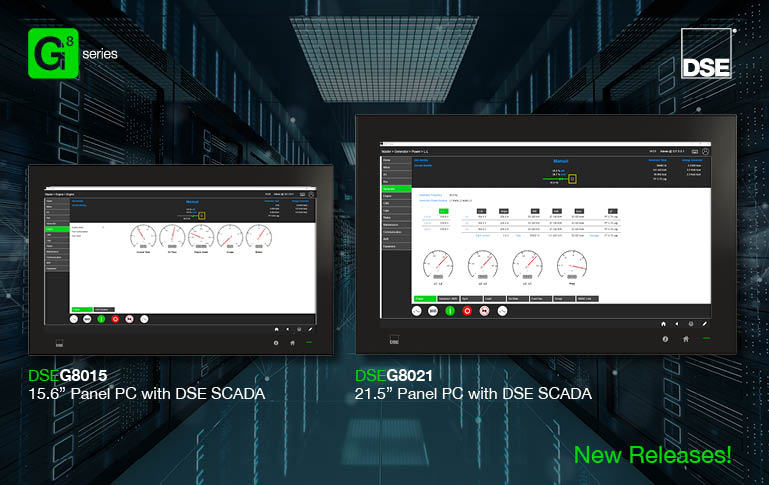 Now Available - DSE G8015 / G8021 Panel PCs
DSE are pleased to announce the release of two new panel PCs, the G8015 15" and G8021 21" for use with the G8 Series Advanced Paralleling Controller Platform.
Hardware
The G8015 and G8021 are Windows based panel PC's running DSE SCADA software and are designed for use with the G8 Series paralleling controller platform. The units are available in 15.6" or 21.5" 1920 x 1080 LED backlit capacitive touchscreen display formats. When mounted, the units offer IP66 protection, and the powerful Intel processor ensures smooth operation. The units are connected to DSE G8 Series controllers via Ethernet.
Software

DSE SCADA is a secure software platform that provides advanced multi-set monitoring & commissioning functionality for G8 Series Controllers. The stand-alone software is pre-loaded onto each device, which includes a full software license. The software can be configured to connect with individual / multiple generators on the same site. Users can gain a full system overview from any remote location with an Internet connection. The software provides multi-set commissioning functionality, which allows users to commission multiple generators.
Key Features
Powerful Intel® Atom® processor
4 GB SDRAM
Multi-touch capacitive display
1 x Ethernet, 2 x USB 3.0, 1 x USB 2.0
IP66 front panel protection
Line out - Audio system connection
Panel mount
Windows 10 IoT Enterprise
2.5" SATA Solid State Drive
System status LED indicators
Wi-Fi hotspot capability
Option to design as server/client configuration