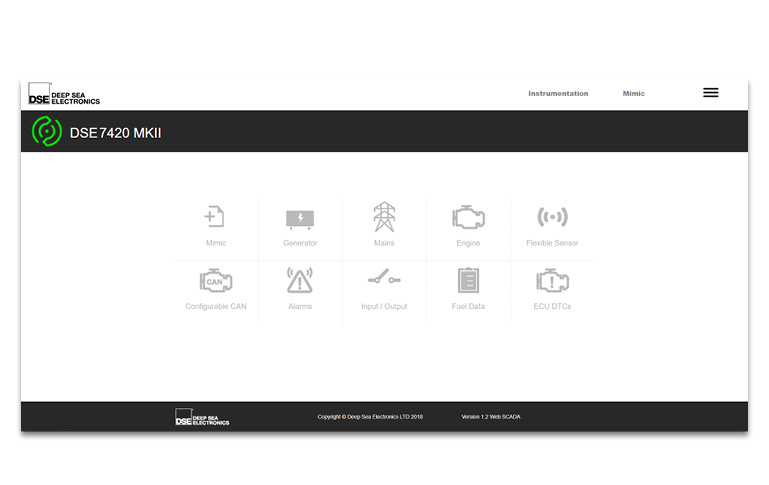 Embedded Web SCADA added to DSE74XX MKII
Web SCADA has been added to the DSE7410 MKII and DSE7420 MKII. This new feature is accessible via a network using a web page embedded into the control modules. The web page is accessed via a dedicated IP address.
The web server is protected by a username and password. This information is required to change settings and control the module. The username and password is not required to view the web page.

Web Pages Include:

Overview

Icon based overview screen. Single click on each icon takes user through to a page with detailed information.
Mimic
The user can control the module and view detailed information on this screen.
Instrumentation
The user can view the module instrumentation on these screens, including generator, mains, engine parameters and more.
ECU Diagnostics
Displays current and past diagnostic trouble codes.
Alarms
Displays warnings, electrical trips and shutdowns.
Settings
SNMP, network and security settings can be accessed and modified.
Module data is refreshed to the web SCADA every 2 seconds. The Embedded Web SCADA is enabled on the Communications Ethernet Port page within the DSE Configuration Suite Software (Set to disabled as default).
Product Page Links: