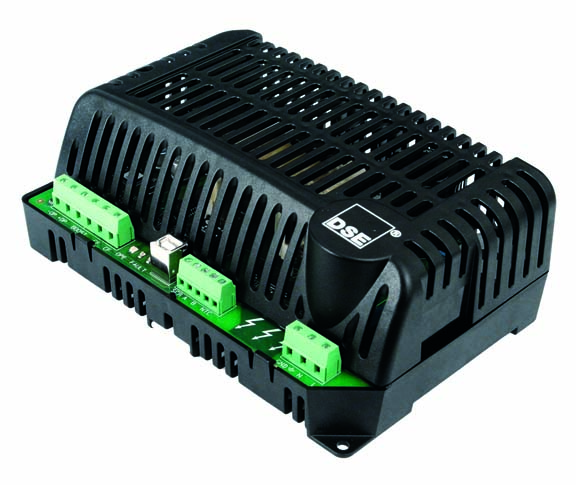 Intelligent Battery Chargers - Now Available
INTRODUCING THE NEW INTELLIGENT BATTERY CHARGERS FROM DSE
Deep Sea Electronics plc is delighted to bring to the market a brand new range of intelligent battery chargers. The 5 and 10 Amp chargers include 12 and 24 Volt versions suitable for a wide variety of battery types. The chargers are programmable and have been designed to provide an outstanding range of features including:
• Digital microprocessor technology
• Automatic 3-stage charging
• 86% operating efficiency at 110 V and 90% at 230 V
• Automatic de-rating at high ambient temperatures
• PC programmable charging curves for a longer battery life
• Multiple chargers can be used in parallel
• Suitable for multiple battery types
• AC voltage operating range 110 V to 277 V
• No moving parts for reliability and longer battery life
• Multiple input & output protections
• RS485 communications
Charger Details
DSE9470 10 Amp 24 Volt
DSE9480 10 Amp 12 Volt
DSE9472 5 Amp 12 Volt
DSE9481 5 Amp 24 Volt
The current new battery chargers form the first release of a growing range of intelligent battery chargers, with further products in the pipeline for higher wattage applications.
For more information please refer to the DSE website: http://www.deepseaelectronics.com/products/dse-power/
or contact sales@deepseaelectronics.com