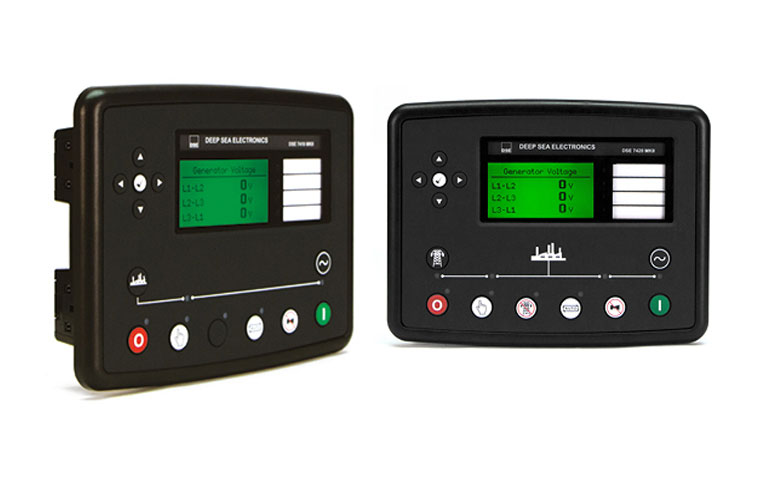 New Features for DSE73xxMKII and DSE74xxMKII Control Modules
A number of exciting new features have been added to DSEs core products within the DSEGenset range. A strategy of ongoing product development has enabled DSE to enhance the popular 73xx MKII and 74xx MKII Auto Start and Auto Mains Failure control modules, keeping products ahead of the very latest industry demands.
New features across the range include:
Full CAN communication with the DSEA108 AVR with information displayed on the modules' display screen.
Supports 7 languages (English & 6 alternatives).
Crank disconnect on generator voltage
Delay on crank disconnect on low oil pressure to compensate for cold oil
Increased support for DSE25XX MKII over DSENet®.
Charge alternator support can be disabled. This will remove all related information from the front panel editor and SCADA. Charge alternator instrumentation will also be removed from the module display.
3 new digital input functions for additional flexibility allowing the user to turn on additional engine functionality on supported electronic engines.
Supports escape mode There are a number of new engine types that issue a shutdown command when efficiency related limits are reached. This function allows the engine to run in order to resolve the issues.
Configurable icon screens to suit individual applications
Additional features specific to the DSE7320MKII module only:
Closed transition support with check sync on Mains (Utility) supply. Parallel time is circa 100 ms.
Mains (utility) and generator breaker alarms to ensure the closed transition function operates correctly. Can also be used for open transition.
Open transition support with check sync to reduce the risk of damage to rotating machinery.
For further information please refer to the relevant product pages.