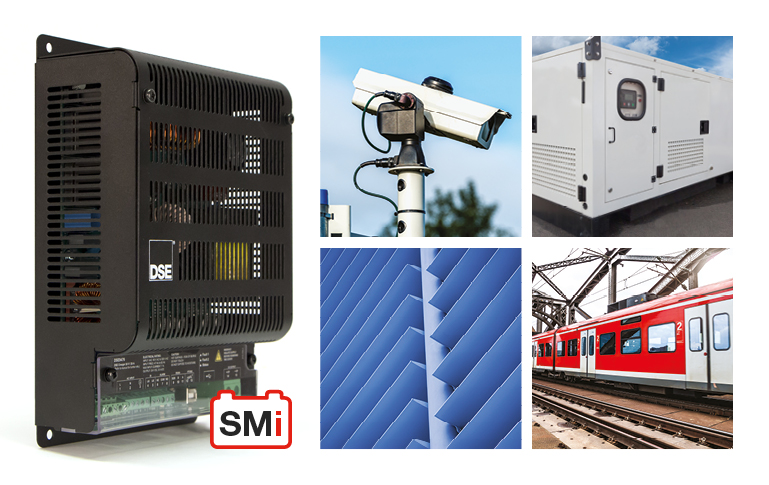 NEW 24 Volt 20 Amp Intelligent Battery Charger
The latest product to be developed by UK manufacturer DSE is the DSE9476 Intelligent Battery Charger. The new product suits 24 Volt 20 Amp applications making it ideal for CHP, AOV and larger generator systems, and provides a high number of sophisticated features for superior operating efficiencies and advanced protections & monitoring.
The DSE9476 is the newest product within the highly regarded DSEPower range, and offers many top level built-in features as standard e.g.
Fully programmable 2,3 and 4-stage charging curves to maintain multiple different battery types, exactly matching their charging profile requirements.

RS485 MODBUS Communications for integration into BMS systems for complete system monitoring.

Configurable battery detection, with an alarm, is available to detect and announce if the battery is not connected.

DSE9476 can be used to charge the battery, and, simultaneously or independently, as a power supply.
To increase the Amps and Voltage rating, multiple DSE9476 chargers can be linked in parallel or series through an integrated O ring diode, making the usual requirement for an external diode bridge unnecessary – simplifying the system design.
The charger is designed with no moving parts for a longer life and is extremely compact to fit within space restricted panels. Incorporating digital microprocessor technology for the most accurate and reliable operation, this charger will deliver battery charging requirements in the most highly efficient way with a low output ripple and light load & line regulation.
Battery performance is optimised through different temperature ranges via the battery temperature compensation feature. Using a PT1000 sensor for direct battery temperature measurement enables automatic de-rating of the battery charger output, which can help to protect the battery.
Fully tested in live applications, the DSE9476 is brought to the market to deliver many advantages for battery charging applications across multiple markets.
All DSE Intelligent battery chargers are configurable via the user-friendly DSE Configuration Suite PC software. The software is licence-free and offers easy to follow screens for setting up, allowing valuable engineering resources to be kept to a minimum. Products are designed and manufactured in the UK by DSE in their high-tech North Yorkshire facility using the highest grade components and manufacturing techniques. All products are 100% tested before leaving the factory.