Load Sharing & Synchronising Control Modules
DSE

8610 MKII
Synchronising & Load Sharing Auto Start Control Module
The DSE
8610
MKII represents the latest in complex load sharing & synchronising control technology. Designed to handle the most complex grid type generator applications the DSE
8610
MKII control module is packed with multiple features and benefits that are unrivalled across the generator control industry.
Calculating Fuel Efficiency and Meeting Green Emission Directives Paper
view UL Certification click
here.
OVERALL SIZE
245 mm x 184 mm x 51 mm (9.6" x 7.2" x 2.0")

PANEL CUTOUT SIZE
220 mm x 160 mm (8.7" x 6.3")

MAXIMUM PANEL THICKNESS
8.0 mm (0.3")
WEIGHT

0.88kg
PRODUCT VARIANTS
8610-02 - 8610 MKII Synchronising & Load Sharing Control Module (Ct, Rtc)
Product Highlights
Key Features & Benefits
Key Features
Key Benefits
Refer to product data sheet for complete list of integrated features.
De-rate capability.
kW and kvar full load ratings in the DSE configuration suite software can now be overridden by GenComm registers. When overridden the system will behave exactly as if the de-rated values were set in the config. Two new instrumentation pages have been add
Display sets on load on modules LCD display.
On the pages that show the modules MSC link the modules MSC ID and which sets are on load are visible.
Power curve simulation.
Simulation injection testing has been added to the tools menu in the DSE Configuration Suite Software. This feature allows users to demonstrate power curves.
Configurable engine icons.
The DTC related icon screen is user configurable. The user has the option to define the icons and conditions.
Serial port settings within the front panel editor.
RS232 and RS485 settings for Slave ID and Baud Rate have been added to the front panel editor. A new page "Editor - Communications" has been added which contains 4 screens (RS232 Baud, RS232 Slave ID, RS485 Baud, RS485 Slave ID).
Drag and drop advanced PLC editor.
The PLC editor has been completely redesigned. It has a brand new look and feel and offers enhanced functionality for the user, through the addition of new function blocks. The PLC editor is accessed via DSE configuration suite software. The PLC software
Redundant MSC.
Allows two MSC links to be connected between multiple DSE86xx MKII control modules.
Type 1 fully flexible inputs.
Flexible for configuration as voltage, current or resistive.
Two RS485 ports.
Aids communication with electronic engines and building management systems.
Three CAN ports.
Ultimate CAN flexibility. Connect to DSENet devices, communicate with electronic engines and maintain a redundant MSC link.
32-set synchronisation.
Offers optimum flexibility for system expansion.
Configurable inputs/outputs (12/8).
Provides multiple installation options.
Dead bus sensing.
Provides rapid power delivery on multi-set systems.
Remote communications (RS232, RS485, Ethernet).
Provides secure and simple off site monitoring. All ports are continuously active.
Direct governor control.
Eliminates the requirement for external control equipment.
kW & kV Ar load sharing.
Provides controlled power delivery.
Configurable event log (250).
Provides access to historical alarms and operational status.
Load switching, load shedding & dummy load outputs.
Allows load options and dummy load requirements to be independently controlled.
Power monitoring (kW h, kVAr, kv Ah, kV Ar h), reverse power protection, kW overload protection.
Provides clear accurate power measurement information.
Data logging (USB Memory Stick).
Provides current and historical status information.
DSE Configuration Suite PC Software.
Provides complete user-friendly configuration and easy-to-use high-level system control & monitoring.
Tier 4F Stage V CAN engine support.
Ensures the control module can be used with the latest in modern electronic engine technology.
Sophisticated emission control with DPF regeneration & soot capture.
When soot loading in the filters reaches a set limit the control module can control the regeneration to lower soot levels in the DPF.
Separate ramp up and ramp down rates configurable via PLC.
Enables different values to be configured.
In-built SNMP.
Provides additional flexibility.
Battery charger support across DSENet®.
View connected charger information on the display of the control module.
Configurable CAN transmit and receive.
Provides additional flexibility.
Sophisticated data logging.
Provides detailed site data for detailed analysis.
Support for 0 V to 20 V and 4 mA to 20 mA sensors.
On-board analogue input supports 3rd party equipment as standard.
Can be used as a rear mounted solution using a DSE rear mount panel bracket.
Gives flexibility to use the product in the front or rear of a panel.
CAN AVR Support.
Fully supports the DSEA108 and DSEA109 Digital AVRs.
Variable speed generator support.
Provides enhanced engine speed control for direct and variable control of motor driven equipment.
Specification
DC SUPPLY
CONTINUOUS VOLTAGE RATING
8 V to 35 V continuous

CRANKING DROPOUTS
Able to survive 0 V for 50 mS, providing supply was at least 10 V before dropout and supply recovers to 5 V. This is achieved without the need for internal batteries

MAXIMUM OPERATING CURRENT
460 mA at 12 V, 245 mA at 24 V

MAXIMUM STANDBY CURRENT
375 mA at 12 V, 200 mA at 24 V

CHARGE FAIL/EXCITATION RANGE
0 V to 35 V


OUTPUTS
OUTPUT A (FUEL)
15 A DC at supply voltage

OUTPUT B (START)
15 A DC at supply voltage

OUTPUTS C & D
8 A AC at 250 V AC (Volt free)

AUXILIARY OUTPUTS E,F,G,H,I & J
2 A DC at supply voltage
GENERATOR & BUS
VOLTAGE RANGE
15 V to 415 V AC (Ph to N)
25 V to 719 V AC (Ph to Ph)

FREQUENCY RANGE
3.5 Hz to 75 Hz

MAGNETIC PICK-UP
VOLTAGE RANGE
+/- 0.5 V to 70 V

FREQUENCY RANGE
10,000 Hz (max)
BUILT-IN GOVERNOR CONTROL
MINIMUM LOAD IMPEDANCE
1000Ω
Fully isolated

GAIN VOLTAGE
0 V to 10 V DC
Fully isolated

OFFSET VOLTAGE
+/- 10 V DC
Fully isolated
BUILT-IN AVR CONTROL
MINIMUM LOAD IMPEDANCE
1000Ω
Fully isolated

GAIN VOLTAGE
0 V to 10 V DC
Fully isolated

OFFSET VOLTAGE
+/- 10 V DC
Fully isolated
Environmental Testing Standards
ELECTRO-MAGNETIC COMPATIBILITY
BS EN 61000-6-2
EMC Generic Immunity Standard for the Industrial Environment.
BS EN 61000-6-4
EMC Generic Emission Standard for the Industrial Environment.
ELECTRICAL SAFETY
BS EN 60950
Safety of Information Technology Equipment, including Electrical Business Equipment.
TEMPERATURE
BS EN 60068-2-1
Ab/Ae Cold Test -30°C.
BS EN 60068-2-2
Bb/Be Dry Heat +70°C.
VIBRATION
BS EN 60068-2-6
Ten sweeps in each of three major axes.
5 Hz to 8 Hz @ +/-7.5 mm, 8 Hz to 500 Hz @ 2 gn.
HUMIDITY
BS EN 60068-2-30
Db Damp Heat Cyclic 20/55° C @ 95% RH 48 Hours.
BS EN 60068-2-78
Cab Damp Heat Static 40° C @ 93% RH 48 Hours.
SHOCK
BS EN 60068-2-27
Three shocks in each of three major axes 15 gn in 11 ms.
DEGREES OF PROTECTION PROVIDED BY ENCLOSURES
BS EN 60529
IP65 - Front of module when installed into the control panel with the supplied sealing gasket.
Connection Diagram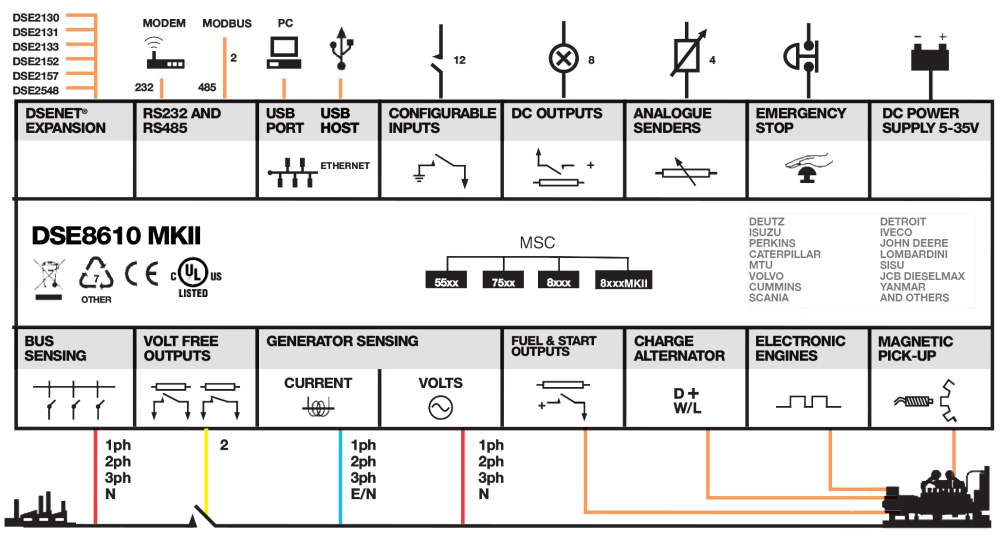 Product Variants
No product variants available