DSE

2157
DSENet® Output (8) Expansion Module
The DSE2157 is an output relay expansion module providing 8 additional outputs to the control system. Up to 10 x DSE2157 modules can be linked to together to provide increased output options.
Designed to give greater output flexibility for meeting complex industry generator control specifications. The module includes eight configurable relay contacts with LED indicators. These can be configured as 4 normally open and 4 normally closed. All configurations are controlled within the host control module.
To view UL Certification click here.
Read More
OVERALL SIZE
165 mm x 76 mm x 49 mm (6.5" x 3.0" x 1.9")
WEIGHT
0.28kg
PRODUCT VARIANTS
2157-01 - 2157 Output Expansion Module
Product Highlights
Key Features
Key Features
DIN rail & chassis mount.
1 km (0.6 Mile) working range.
Connect maximum of 10 x DSE2157's to a single host controller.
Max of 80 relay contacts.
Rotary ID switch to select address of DSE2157 to talk with host module when multiple DSE2157 modules are in use.
Specification
DC SUPPLY
CONTINUOUS VOLTAGE RATING
8 V to 35 V Continuous
CRANKING DROPOUTS
Able to survive 0 V for 50 mS, providing supply was at least 10 V before dropout and supply recovers to 5 V. This is achieved without the need for internal batteries. LEDs and backlight will not be maintained during cranking.
MAXIMUM OPERATING CURRENT
325 mA at 12 V, 152 mA at 24 V

MAXIMUM STANDBY CURRENT
70 mA at 12 V, 32 mA at 24 V

AUXILIARY RELAY CONTACTS
2 Amp DC rated voltage free

Environmental Testing Standards
ELECTRO-MAGNETIC COMPATIBILITY
BS EN 61000-6-2
EMC Generic Immunity Standard for the Industrial Environment.
BS EN 61000-6-4
EMC Generic Emission Standard for the Industrial Environment.
ELECTRICAL SAFETY
BS EN 60950
Safety of Information Technology Equipment, including Electrical Business Equipment.
TEMPERATURE
BS EN 60068-2-1
Ab/Ae Cold Test -30°C.
BS EN 60068-2-2
Bb/Be Dry Heat +70°C.
VIBRATION
BS EN 60068-2-6
Ten sweeps in each of three major axes.
5 Hz to 8 Hz @ +/-7.5 mm, 8 Hz to 500 Hz @ 2 gn.
HUMIDITY
BS EN 60068-2-30
Db Damp Heat Cyclic 20/55° C @ 95% RH 48 Hours.
BS EN 60068-2-78
Cab Damp Heat Static 40° C @ 93% RH 48 Hours.
SHOCK
BS EN 60068-2-27
Three shocks in each of three major axes 15 gn in 11 ms.
Connection Diagram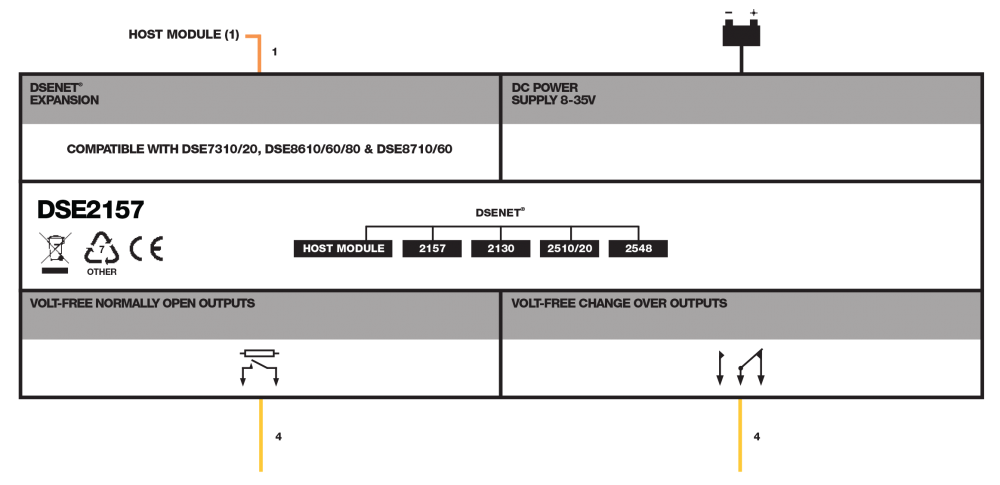 Product Variants
2157-00 - RELAY OUTPUT EXPANSION MODULE