DC/Hybrid Generator Control Modules
DSE

7450
DC/Hybrid Generator Control Module
The DSE 7450 is a control module designed to control DC/Hybrid generators in supplying both a load and/or the charging of batteries.
Specific attention has been given to ensure this module has the necessary features to be configured for many different and challenging applications. Owing to the large number of monitoring points and the built in programmable logic controller, a wide number of operating modes can be realised. This provides the user with the ultimate flexibility in the engine control of the generator to ensure battery life optimisation, reduce engine maintenance/replacement and fuel usage.
To view UL Certification click here
Read More
OVERALL SIZE
240 mm x 172 mm x 57 mm (9.4" x 6.8" x 2.2")
PANEL CUTOUT SIZE
220 mm x 160 mm (8.7" x 6.3")
MAXIMUM PANEL THICKNESS
8.0 mm (0.3")
WEIGHT
0.92kg
PRODUCT VARIANTS
7450-02 - 7450 DC/Hybrid Generator Control Module
Product Highlights
Key Features & Benefits
Key Features
Key Benefits
Automatic/manual start with configurable start/stop timers.
Offers flexibility to control the module manually, remotely or on pre-set timers and start/stop according to battery condition.
Configurable inputs/outputs (10/8).
Provides multiple installation options.
Mains (Utility) failure detection.
Gives full mains (utility) back up.
AC/DC voltage measurement.
Provides flexibility for use on AC or DC systems.
Battery temperature monitor/charge remaining display/depth of discharge display.
Provides information on battery temperature, charge remaining and depth of discharge.
Backed-up real time clock.
Ensures data is not lost when module is disconnected from its power source.
Configurable event log (250).
Provides access to historical alarms and operational status.
Battery condition automatic start/stop.
Avoids the battery draining completely by starting the generator when the battery needs charging.
USB, RS232, RS485, Ethernet and Modbus RTU/TCP communications.
Provides secure and simple off site monitoring. All ports are continuously active.
Additional Features
Configurable maintenance alarms (3).
Configurable battery maintenance alarms (3).
2 DC shunt inputs (configurable 0-250mV and 0-5000A).
kW overload alarms.
Electrical protections.
PLC functionality.
Exercise timer.
Fuel usage monitor and low level alarms.
Manual/automatic load transfer.
SCADA monitoring.
Overcurrent & short circuit DC overload alarms.
Specification
DC SUPPLY
CONTINUOUS VOLTAGE RATING
8 V to 35 V Continuous

CRANKING DROPOUTS
Able to survive 0 V for 50 mS, providing supply was at least 10 V before dropout and supply recovers to 5 V. This is achieved without the need for internal batteries

MAXIMUM OPERATING CURRENT
260 mA at 12 V, 130 mA at 24 V
MAXIMUM STANDBY CURRENT
120 mA at 12 V, 65 mA at 24 V
CHARGE FAIL/EXCITATION RANGE
0 V to 35 V
OUTPUTS
OUTPUT A (FUEL)
15 A DC at supply voltage
OUTPUT B (START)
15 A DC at supply voltage
OUTPUTS C & D
8 A AC at 250 V AC (Volt free)
AUXILIARY OUTPUTS E,F,G,H,I & J
2 A DC at supply voltage
GENERATOR
VOLTAGE RANGE
15 V to 150 V AC (L-N)
FREQUENCY RANGE
3.5 Hz to 75 Hz
MAINS (UTILITY)
VOLTAGE RANGE
15 V to 333 V AC (L-N)
FREQUENCY RANGE
3.5 Hz to 75 Hz
MAGNETIC PICK UP
VOLTAGE RANGE
+/- 0.5 V to 70 V
FREQUENCY RANGE
10,000 Hz (max)
Environmental Testing Standards
ELECTRO-MAGNETIC COMPATIBILITY
BS EN 61000-6-2
EMC Generic Immunity Standard for the Industrial Environment.
BS EN 61000-6-4
EMC Generic Emission Standard for the Industrial Environment.
ELECTRICAL SAFETY
BS EN 60950
Safety of Information Technology Equipment, including Electrical Business Equipment.
TEMPERATURE
BS EN 60068-2-1
Ab/Ae Cold Test -30°C.
BS EN 60068-2-2
Bb/Be Dry Heat +70°C.
VIBRATION
BS EN 60068-2-6
Ten sweeps in each of three major axes.
5 Hz to 8 Hz @ +/-7.5 mm, 8 Hz to 500 Hz @ 2 gn.
HUMIDITY
BS EN 60068-2-30
Db Damp Heat Cyclic 20/55° C @ 95% RH 48 Hours.
BS EN 60068-2-78
Cab Damp Heat Static 40° C @ 93% RH 48 Hours.
SHOCK
BS EN 60068-2-27
Three shocks in each of three major axes 15 gn in 11 ms.
DEGREES OF PROTECTION PROVIDED BY ENCLOSURES
BS EN 60529
IP65 - Front of module when installed into the control panel with the optional sealing gasket.
Connection Diagram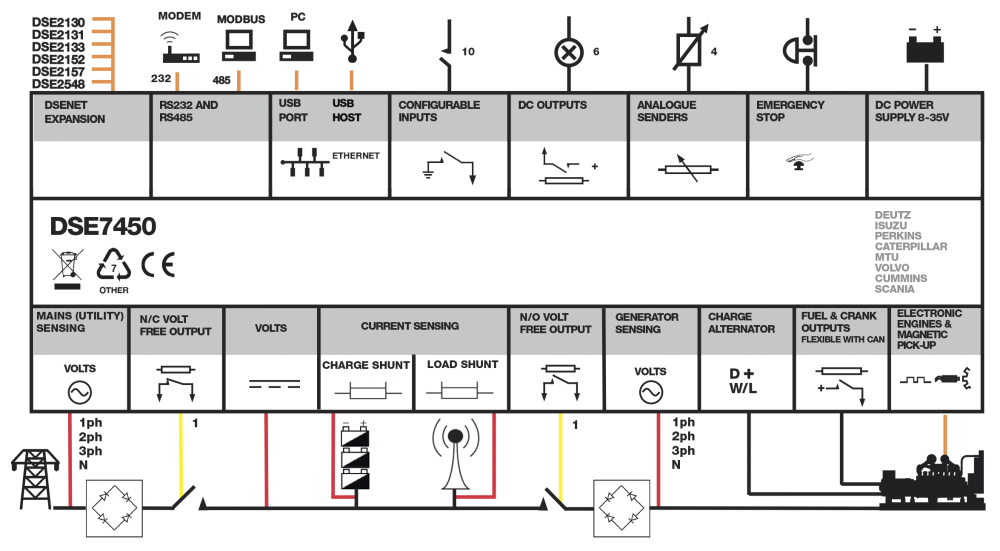 Product Variants
7450-02 - 7450 DC/HYBRID GENERATOR CONTROLLER