Load Sharing & Synchronising Control Modules
DSE

8680
Synchronising Generator Bus Tie Control Module
The DSE8680 is an intelligent control module designed to control a generator bus-tie breaker. The control module features technology that automatically manages the synchronising and check-sync across the breaker using the DSE multi-set communications (MSC) link when opening and closing the bus-tie breaker.
To view UL Certification click here.
OVERALL SIZE
240 mm x 181 mm x 42 mm (9.4" x 6.8" x 1.6")
PANEL CUTOUT SIZE
220 mm x 160 mm (8.7" x 6.3")
MAXIMUM PANEL THICKNESS
8.0 mm (0.3")
WEIGHT
0.86kg
PRODUCT VARIANTS
8680-01 - 8680 Synchronising Generator Bus Tie Control Module
Product Highlights
Key Features & Benefits
Key Features
Key Benefits
Connects to two DSE MSC links (Bus 1 & Bus 2).
Provides excellent system flexibility.
Automatic control of the DSE MSC link.
Provides control when the breaker is opened or closed for synchronising.
Up to 2 8680's are supported when one to fourteen 8x60's are in the system.
This provides a fully integrated standalone solution without the need for an external PLC.
Configurable inputs/outputs (11/8).
Provides multiple installation options.
Remote communications (RS232, RS485 x2, Ethernet).
Provides secure and simple off site monitoring. All ports are continuously active.
Configurable event log (250).
Provides access to historical alarms and operational status.
Integral PLC editor.
Ensures additional applications are easily integrated into the system.
Data logging (USB Memory Stick).
Provides current and historical status information.
DSE Configuration Suite PC Software.
Provides complete user-friendly configuration and easy-to-use high-level system control & monitoring.
Compatible with DSE55xx, 75xx and 86xx control modules.
Provides flexibility for use within existing and new systems.
Additional Features
Electrical protections.
Modbus RTU/TCP support.
Configurable display languages.
Configurable status screens.
Audible alarms.
Engine protections.
Backed-up real time clock.
SMS messaging.
Modem diagnostic tool.
Data logging & trending.
Specification
DC SUPPLY
CONTINUOUS VOLTAGE RATING
8 V to 35 V Continuous

MAXIMUM OPERATING CURRENT
150 mA at 12 V, 80 mA at 24 V

MAXIMUM STANDBY CURRENT
50 mA at 12 V, 30 mA at 24 V

BUS 1 AND BUS 2
VOLTAGE RANGE
15 V to 333 V AC (L-N)

FREQUENCY RANGE
3.5 Hz to 75 Hz

OUTPUTS
OUTPUTS C & D
8 A at 250 V AC (Volt free)

AUXILIARY OUTPUTS E,F,G,H,I & J
2 A DC at supply voltage

Environmental Testing Standards
ELECTRO-MAGNETIC COMPATIBILITY
BS EN 61000-6-2
EMC Generic Immunity Standard for the Industrial Environment.
BS EN 61000-6-4
EMC Generic Emission Standard for the Industrial Environment.
ELECTRICAL SAFETY
BS EN 60950
Safety of Information Technology Equipment, including Electrical Business Equipment.
TEMPERATURE
BS EN 60068-2-1
Ab/Ae Cold Test -30°C.
BS EN 60068-2-2
Bb/Be Dry Heat +70°C.
VIBRATION
BS EN 60068-2-6
Ten sweeps in each of three major axes.
5 Hz to 8 Hz @ +/-7.5 mm, 8 Hz to 500 Hz @ 2 gn.
HUMIDITY
BS EN 60068-2-30
Db Damp Heat Cyclic 20/55° C @ 95% RH 48 Hours.
BS EN 60068-2-78
Cab Damp Heat Static 40° C @ 93% RH 48 Hours.
SHOCK
BS EN 60068-2-27
Three shocks in each of three major axes 15 gn in 11 ms.
DEGREES OF PROTECTION PROVIDED BY ENCLOSURES
BS EN 60529
IP65 - Front of module when installed into the control panel with the optional sealing gasket.
Connection Diagram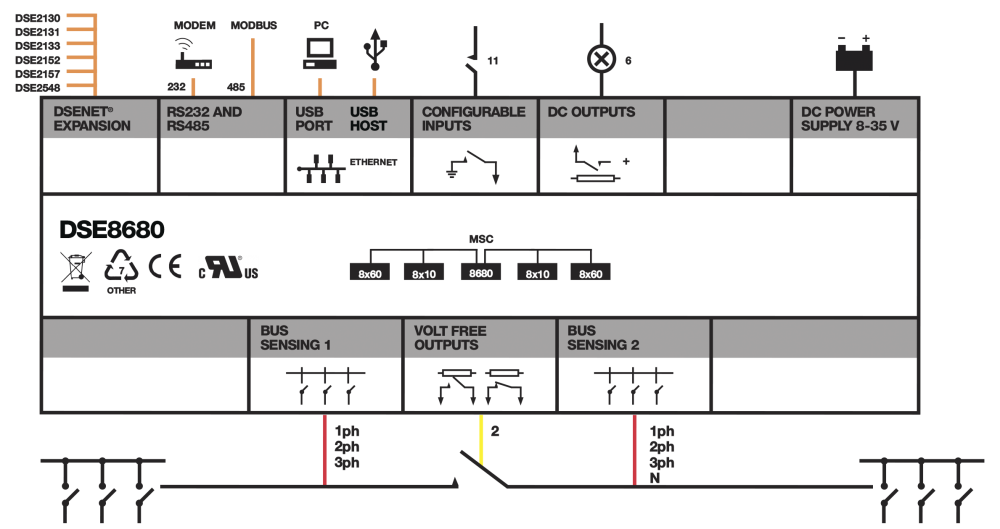 Product Variants
8680-01 - 8680 BUS TIE CONTROLLER