Load Sharing & Synchronising Control Modules
DSE

871x
Mono Remote Displays
The DSE8711 and DSE8716 remote displays have been expertly designed to provide the DSE8710/60 Rear Mounted Load Share Control Modules flexible display options.
The remote displays can be used in two ways. They can either be connected to the rear mounted control module and mounted into the front door of a panel or used remotely (max 1.2km away) by connecting to the dedicated data communications link and placing the remote display in an alternative location.
Read More
OVERALL SIZE
240 mm x 181 mm x 42 mm (9.4" x 7.1" x 1.6")
PANEL CUTOUT SIZE
220 mm x 160 mm (8.7" x 6.3")
MAXIMUM PANEL THICKNESS
8.0 mm (0.3")
WEIGHT
0.76kg
PRODUCT VARIANTS
8711-01 - 8711 Mono Remote Display (For use with 8710)
8716-01 - 8716 Mono Remote Display (For use with 8760)
Product Highlights
Key Features & Benefits
Key Features
Key Benefits
Front panel mounting.
Gives options to reduce wiring at the front of a panel when space is limited.
Remote communications (RS232, RS485 x2, Ethernet).
Provides secure and simple off site monitoring. All ports are continuously active.
Displays the information in the same format as the DSE8610 and DSE8660 control modules.
Provides the exact functionality customers expect from DSE but delivers it in a two-part solution for panels with limited wiring space.
Works with DSE8710 and DSE8760.
Provides high levels of flexibility across multiple load share platforms.
Additional Features
Audible alarms.
Engine protections.
Fault condition notification.
Configurable timers & alarms.
Configurable start/stop timers.
SMS messaging.
Remote monitoring.
Specification
DC SUPPLY
CONTINUOUS VOLTAGE RATING
8 V to 35 V continuous

CRANKING DROPOUTS
Able to survive 0 V for 50 mS, providing supply was at least 10 V before dropout and supply recovers to 5 V. This is achieved without the need for internal batteries

MAXIMUM OPERATING CURRENT
DSE871x max @ 24 V = 70 mA
DSE871x max @ 12 V = 140 mA

OUTPUTS
AUXILLARY OUTPUTS C & D
2 A DC at supply voltage

Environmental Testing Standards
ELECTRO-MAGNETIC COMPATIBILITY
BS EN 61000-6-2
EMC Generic Immunity Standard for the Industrial Environment.
BS EN 61000-6-4
EMC Generic Emission Standard for the Industrial Environment.
ELECTRICAL SAFETY
BS EN 60950
Safety of Information Technology Equipment, including Electrical Business Equipment.
TEMPERATURE
BS EN 60068-2-1
Ab/Ae Cold Test -30°C.
BS EN 60068-2-2
Bb/Be Dry Heat +70°C.
VIBRATION
BS EN 60068-2-6
Ten sweeps in each of three major axes.
5 Hz to 8 Hz @ +/-7.5 mm, 8 Hz to 500 Hz @ 2 gn.
HUMIDITY
BS EN 60068-2-30
Db Damp Heat Cyclic 20/55° C @ 95% RH 48 Hours.
BS EN 60068-2-78
Cab Damp Heat Static 40° C @ 93% RH 48 Hours.
SHOCK
BS EN 60068-2-27
Three shocks in each of three major axes 15 gn in 11 ms.
DEGREES OF PROTECTION PROVIDED BY ENCLOSURES
BS EN 60529
IP65 - Front of module when installed into the control panel with the optional sealing gasket.
Connection Diagram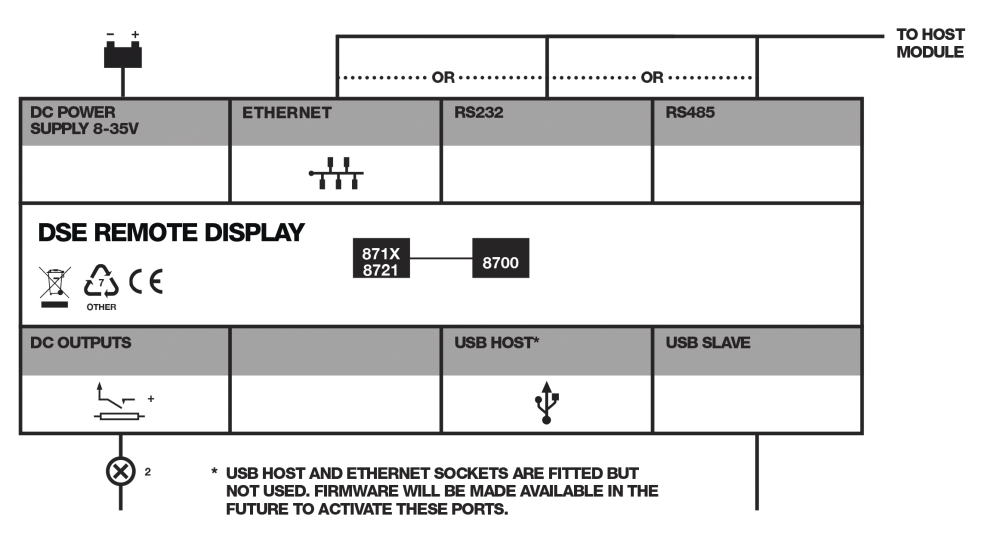 Product Variants
No product variants available