Manual & Auto Start Control Modules
DSE

701MKII
Manual & Auto Start Control Module
The DSE701 MKII is a compact control module that offers a range of features for single-set applications. The controller can be used in manual or auto start mode.
OVERALL SIZE
72 mm x 72 mm x 38 mm (2.8" x 2.8" x 1.5")
Excludes Key Switch
PANEL CUTOUT SIZE
68 mm x 68 mm (2.7 " x 2.7")
MAXIMUM PANEL THICKNESS
8.0 mm (0.3")
WEIGHT
0.14kg
PRODUCT VARIANTS
0701-05 - 701MKII Manual & Auto Start Control Module
Product Highlights
Key Features & Benefits
Key Features
Key Benefits
Front panel key switch.
Ensures the generator can only be operated when the key is used.
Configurable for use as a manual or auto start control module.
Helps to reduce module variants held in stock.
Auxiliary shutdown input (manual mode only).
Provides a simple input for a remote stop switch.
LED status indication.
Provides instant generator operating status.
Engine pre-heat.
Warms the engine to a safe temperature at start-up to increase engine life.
Engine monitoring & protection.
Protects engine from long-term damage.
Over speed protection.
Prevents engines running too fast and becoming damaged.
DSE Configuration Suite Lite PC Software (DSE813 required).
Provides complete user-friendly configuration and easy-to-use high-level system control & monitoring.
Monitors battery charging status using the WL terminal on the charge alternator.
When the battery has a charging fault the module illuminates an LED on its front panel.
Specification
DC SUPPLY
CONTINUOUS VOLTAGE RATING
8 V to 35 V continuous
CRANKING DROPOUTS
Able to survive 0 V for 50 mS, providing supply was at least 10 V before dropout and supply recovers to 5 V. This is achieved without internal batteries.
MAXIMUN OPERATING CURRENT
26 mA at 12 V, 27 mA at 24 V
MAXIMUM STANDBY CURRENT
20 mA at 12 V, 21 mA at 24 V
CHARGE/FAIL EXITATION RANGE
0 V TO 35 V

OUTPUTS
START
Solid state 1.2 A negative grounding terminal
RUN
Solid state 1.2 A negative grounding terminal
PRE-HEAT
Solid state 1.2 A negative grounding terminal


GENERATOR
VOLTAGE RANGE
15 V - 333 V AC (L-N)

FREQUENCY RANGE
3.5 Hz to 75 Hz
Environmental Testing Standards
ELECTRO-MAGNETIC COMPATIBILITY
BS EN 61000-6-2
EMC Generic Immunity Standard for the Industrial Environment.
BS EN 61000-6-4
EMC Generic Emission Standard for the Industrial Environment.
ELECTRICAL SAFETY
BS EN 60950
Safety of Information Technology Equipment, including Electrical Business Equipment.
TEMPERATURE
BS EN 60068-2-1
Ab/Ae Cold Test -30°C.
BS EN 60068-2-2
Bb/Be Dry Heat +70°C.
VIBRATION
BS EN 60068-2-6
Ten sweeps in each of three major axes.
5 Hz to 8 Hz @ +/-7.5 mm, 8 Hz to 500 Hz @ 2 gn.
HUMIDITY
BS EN 60068-2-30
Db Damp Heat Cyclic 20/55° C @ 95% RH 48 Hours.
BS EN 60068-2-78
Cab Damp Heat Static 40° C @ 93% RH 48 Hours.
SHOCK
BS EN 60068-2-27
Three shocks in each of three major axes 15 gn in 11 ms.
Connection Diagram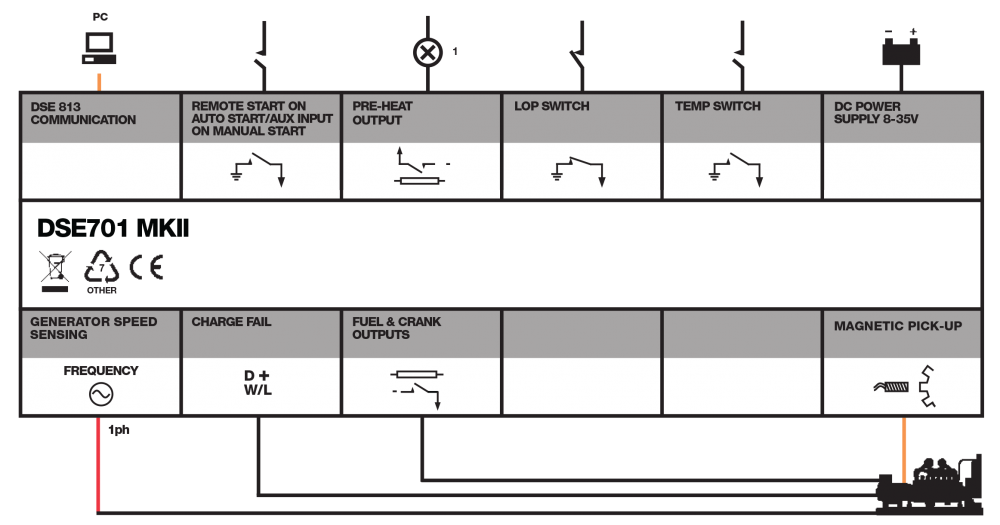 Product Variants
0701-05 - 701 CONTROLLER MKII AUTO START