Manual & Auto Start Control Modules
DSE

7110 MKII
Auto Start Control Module
The DSE7110 MKII is an Auto Start Control Module with an icon-based display. The control module has been designed to control single diesel or gas gen-set applications.
OVERALL SIZE
240 mm x 181 mm x 42 mm (9.4" x 6.8" x 1.6")
PANEL CUTOUT SIZE
220 mm x 160 mm (8.7" x 6.3")
MAXIMUM PANEL THICKNESS
8.0 mm (0.3")
WEIGHT
0.82kg
PRODUCT VARIANTS
7110-01 - 7110 MKII Auto Start Control Module

Product Highlights
Key Features & Benefits
Key Features
Key Benefits
Large back-lit icon LCD display.
Displays information to the operator in a clear and concise format.
Heated display option.
Ensures the display continues to operate in extreme cold weather conditions.
3-phase generator sensing.
Provides true generator sensing.
Generator & load power monitoring (kW, kV A, kV Ar, pf).
Provides clear accurate power measurement information.
Generator overload protection (kW).
Provides engine overload protection.
Generator/load current monitoring & protection.
Provides convenience of monitoring and protection of the generator or monitoring of the load current.
Configurable analogue/digital inputs.
Provides multiple installation options.
Configurable DC, volt-free and staged loading outputs.
Provides multiple installation options.
CAN, MPU & alternator speed sensing (selectable depending on engine type).
Makes the module ideal for standard and electronic engine applications.
Tier 4 CAN engine support.
Ensures the control module can be used with the latest in modern electronic engine technology.
Configurable event log (50).
Provides access to historical alarms and operational status.
DSE Configuration Suite PC Software.
Provides complete user-friendly configuration and easy-to-use high-level system control & monitoring.
Additional Features
Hours counter.
Multiple display parameters.
Extensive configuration options.
Engine maintenance alarms (3).
Engine protections.
Engine pre-heat.
Run time scheduler.
Battery voltage monitoring.
Start on low battery.
Backed-up real time clock.
Manual fuel pump control.
Specification
DC SUPPLY
CONTINUOUS VOLTAGE RATING

8 V to 35 V Continuous

CRANKING DROPOUTS
Able to survive 0 V for 50 mS, providing supply was at least 10 V before dropout and supply recovers to 5 V. This is achieved without the need for internal batteries. LEDs and backlight will not be maintained during cranking.

MAXIMUM OPERATING CURRENT
290 mA at 12 V, 140 mA at 24 V

MAXIMUM STANDBY CURRENT
75 mA at 12 V, 40 mA at 24 V
CHARGE FAIL/EXCITATION RANGE
0 V to 35 V
OUTPUTS
OUTPUT A (FUEL)
10 A short term, 5 A continuous,
at supply voltage
OUTPUT B (START)
10 A short term, 5 A continuous,
at supply voltage
OUTPUTS C & D
8 A AC at ­­­250 V AC (Volt-free)
AUXILIARY OUTPUTS E, F, G & H
2 A DC at supply voltage
GENERATOR
VOLTAGE RANGE
15 V to 415 V AC (Ph to N)
26 V to 719 V AC (Ph to Ph)
FREQUENCY RANGE
3.5 Hz to 75 Hz
MAGNETIC PICK UP
VOLTAGE RANGE
+/- 0.5 V to 70 V
FREQUENCY RANGE
10,000 Hz (max)
Environmental Testing Standards
ELECTRO-MAGNETIC COMPATIBILITY
BS EN 61000-6-2
EMC Generic Immunity Standard for the Industrial Environment.
BS EN 61000-6-4
EMC Generic Emission Standard for the Industrial Environment.
ELECTRICAL SAFETY
BS EN 60950
Safety of Information Technology Equipment, including Electrical Business Equipment.
TEMPERATURE
BS EN 60068-2-1
Ab/Ae Cold Test -30°C.
BS EN 60068-2-2
Bb/Be Dry Heat +70°C.
VIBRATION
BS EN 60068-2-6
Ten sweeps in each of three major axes.
5 Hz to 8 Hz @ +/-7.5 mm, 8 Hz to 500 Hz @ 2 gn.
HUMIDITY
BS EN 60068-2-30
Db Damp Heat Cyclic 20/55° C @ 95% RH 48 Hours.
BS EN 60068-2-78
Cab Damp Heat Static 40° C @ 93% RH 48 Hours.
SHOCK
BS EN 60068-2-27
Three shocks in each of three major axes 15 gn in 11 ms.
DEGREES OF PROTECTION PROVIDED BY ENCLOSURES
BS EN 60529
IP65 - Front of module when installed into the control panel with the optional sealing gasket.
Connection Diagram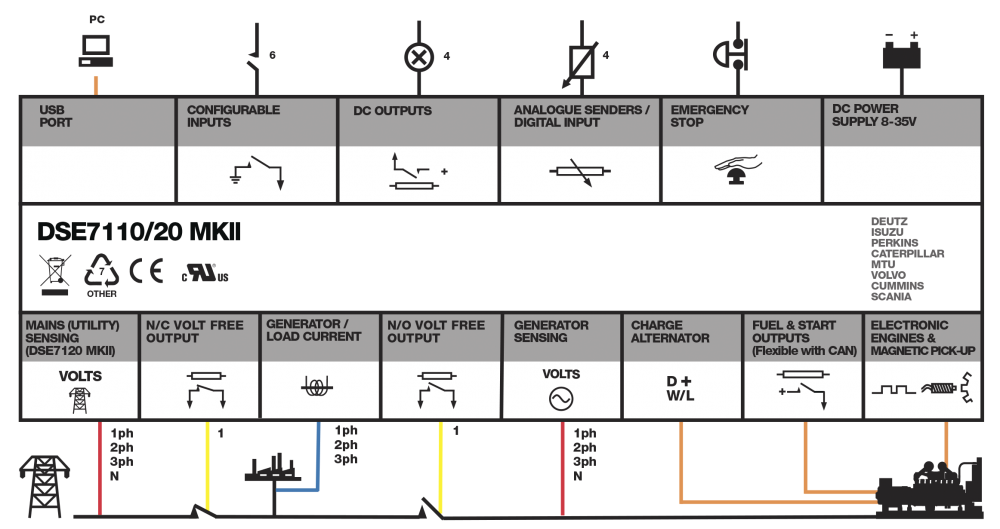 Product Variants
7110-01 - 7110 MKII AUTO START