Engine & Pump Control Modules (E-Series)
DSE

E800
Engine Only Control Module
The DSEE800 engine control module has been designed to provide flexible control and monitoring for engine driven pumps, compressors, hydraulic power packs and off-highway machinery. The control module can be used with electronic and mechanical diesel engines and offers outstanding flexibility via its integrated PLC editor. This flexibility enables users to match required operating modes unique to their applications.
A number of comprehensive communication and system expansion options allows users to extend the input/output capabilities of the system and communicate across complex networks.
To view UL Certification click
here
.
Read More
OVERALL SIZE
240 mm x 172 mm x 57 mm (9.4" x 6.8" x 2.2")
PANEL CUTOUT SIZE
220 mm x 160 mm (8.7 " x 6.3")
MAXIMUM PANEL THICKNESS
8.0 mm (0.3")
WEIGHT
0.88kg
PRODUCT VARIANTS
E800-01 - E800 Engine Control Module
Product Highlights
Key Features & Benefits
Key Features
Key Benefits
Configurable digital inputs (11).
Provides multiple installation options.
Configurable ratio metric inputs (12).
Provides multiple installation options.
Configurable DC outputs (4).
Provides protocols for monitoring of the battery charging and charger status from a remote location.
Configurable PWM (pulse width modulation) outputs (4).
Provides output control flexibility with the option to enter user-defined curves.
Direct governor control.
Eliminates the requirement for external control equipment.
Automatic and manual speed control.
Provides the user the option to manually raise the engine speed.
Clutch control.
Provides a gradual increase and decrease in speed as determined by the user.
CAN, magnetic pick-up or tachometer speed sensing.
Provides the option for engine speed monitoring, either for electronic or traditional non-electronic engines.
Remote communications (RS232, RS485, Ethernet).
Provides secure and simple off site monitoring. All ports are continuously active.
Data logging & trending.
Provides current and historical status information.
Configurable event log (250).
Provides access to historical alarms and operational status.
Integral PLC editor.
Ensures additional applications are easily integrated into the system.
DSE Configuration Suite PC Software.
Provides complete user-friendly configuration and easy-to-use high-level system control & monitoring.
DSEWebNet® compatibility.
Provides full monitoring flexibility.
Additional Features
Multiple language options.
Power save mode.
Configurable timers & alarms.
Engine maintenance alarms (3).
Engine run time scheduler.
Charge alternator failure alarm.
Tier 4 CAN engine support.
Manual fuel pump control.
USB connectivity.
Automatic speed ramping.
SCADA monitoring.
Modbus RTU/TCP support.
SMS messaging start & stop functionality.
Specification
DC SUPPLY
CONTINUOUS VOLTAGE RATING
8 V to 35 V continuous
CRANKING DROPUTS
Able to survive 0 V for 50 mS, providing supply was at least 10 V before dropout and supply recovers to 5 V. This is achieved without the need for internal batteries.
MAXIMUM OPERATING CURRENT
510 mA at 12 V, 238 mA at 24 V
MAXIMUM STANDBY CURRENT
226 mA at 12 V, 107 mA at 24 V
MAXIMUM OFF MODE CURRENT
180 mA at 12 V, 86 mA at 24 V
CHARGE FAIL/EXCITATION RANGE
0 V to 35 V
INPUTS
DIGITAL INPUTS A to K
Configurable as:
Positive switching
Negative switching
RATIOMETRIC INPUTS B to L
Configurable as:
Negative switching digital input
0 V to 10 V
4 mA to 20 mA
0 Ω to 1920 Ω
OUTPUTS
DC OUTPUT A (FUEL) & B (START)
10 A for 10 seconds,
5 A continuous at supply voltage
VOLT-FREE OUTPUTS C & D
5 A DC at 35 V DC
8 A AC at 250 V AC
DC OUTPUTS E, F, G & H
2 A DC at supply voltage
PWM OUTPUTS I, J, K & L
4 A at supply voltage
20 Hz to 250 Hz
PULSE PICK-UP
VOLTAGE RANGE
±0.5 V to 60 V RMS
Fully isolated
FREQUENCY RANGE
10,000 Hz (max)
BUILT-IN GOVERNOR CONTROL
MINIMUM LOAD IMPEDANCE
1000 Ω
Fully isolated
GAIN VOLTAGE
0 V to 10 V DC
OFFSET VOLTAGE
±10 V DC
Environmental Testing Standards
ELECTRO-MAGNETIC COMPATIBILITY
BS EN 61000-6-2
EMC Generic Immunity Standard for the Industrial Environment.
BS EN 61000-6-4
EMC Generic Emission Standard for the Industrial Environment.
ELECTRICAL SAFETY
BS EN 60950
Safety of Information Technology Equipment, including Electrical Business Equipment.
TEMPERATURE
BS EN 60068-2-1
Ab/Ae Cold Test -30°C.
BS EN 60068-2-2
Bb/Be Dry Heat +70°C.
VIBRATION
BS EN 60068-2-6
Ten sweeps in each of three major axes.
5 Hz to 8 Hz @ +/-7.5 mm, 8 Hz to 500 Hz @ 2 gn.
HUMIDITY
BS EN 60068-2-30
Db Damp Heat Cyclic 20/55° C @ 95% RH 48 Hours.
BS EN 60068-2-78
Cab Damp Heat Static 40° C @ 93% RH 48 Hours.
SHOCK
BS EN 60068-2-27
Three shocks in each of three major axes 15 gn in 11 ms.
DEGREES OF PROTECTION PROVIDED BY ENCLOSURES
BS EN 60529
IP65 - Front of module when installed into the control panel with the optional sealing gasket.
Connection Diagram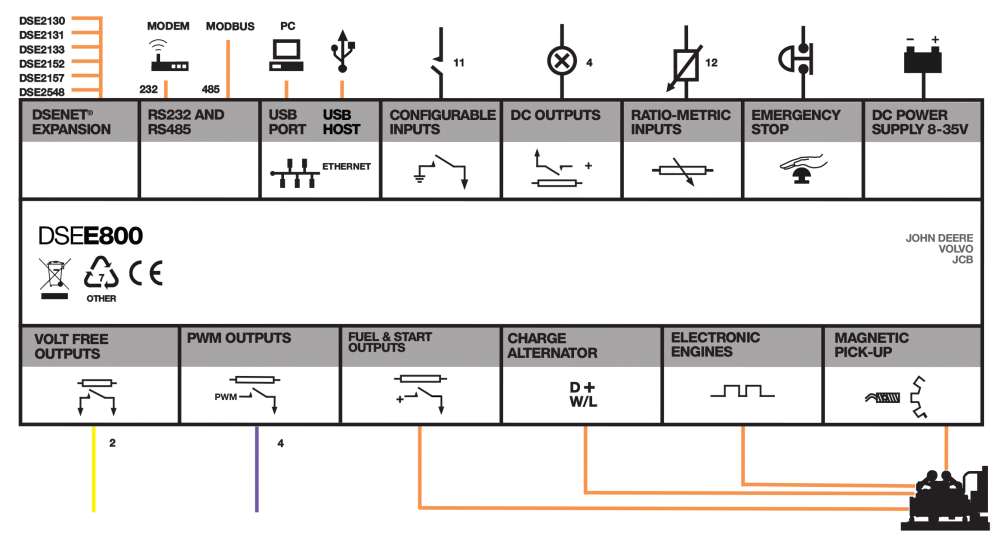 Product Variants
No product variants available