Engine & Pump Control Modules (E-Series)
DSE

E100
Engine Only Control Module
The E100 is an Engine Only Control Module designed to provide flexible engine control with built-in monitoring and protection. The module is fully configurable for a wide range of applications including engine driven pumps and compressors.
Control functions include manual and automatic engine start and load control and built-in run-time scheduler. The DSEE100 also features an event log to help make fault diagnosis extremely simple. The module is configured using the DSE Configuration Suite software.
Read More
OVERALL SIZE
140 mm x 113 mm x 43 mm (5.5" x 4.4" x 1.7")
PANEL CUT OUT
118 mm x 92 mm (4.6" x 3.6")
PRODUCT VARIANTS
E100-01 - E100 Engine Controller

Product Highlights
Key Features & Benefits
Key Features
Key Benefits
Configurable DC outputs (4).
Provides the option to tailor the operation to meet system demands.
Configurable analogue/digital inputs (3).
Provides a comprehensive range of multiple monitoring options.
Configurable digital inputs (4).
Provides a comprehensive range of multiple monitoring options.
Engine maintenance alarms (3).
Supports efficient maintenance schedules.
Fuel and start outputs.
Dedicated outputs for simple connection.
Configurable event log (50).
Assists fault finding and operating trends.
Engine pre-heat.
Prevents engines from starting when too cold.
Engine speed protection.
Protects the engine.
Engine hours counter.
Can be used to schedule servicing schedules.
Engine run time scheduler.
Allows engine to be run at pre-configured times.
Battery voltage monitoring.
Detects if the battery voltage drops.
Start on low battery.
Allows engine to be started when connected battery is at low voltage.
LCD alarm indication.
Presents alarm status clearly on the front display.
Power save mode.
Saves energy.
Front panel/PC software configuration.
Flexible configuration for the user.
Specification
DC SUPPLY
CONTINUOUS VOTLAGE RATING
8 V to 35 V continuous
CRANKING DROPUTS
Able to survive 0 V for 50 mS, providing supply was at least 10 V before dropout and supply recovers to 5 V. This is achieved without the need for internal batteries.
MAXIMUM OPERATING CURRENT
85 mA at 12 V, 96 mA at 24 V
MAXIMUM STANDBY CURRENT
51 mA at 12 V, 47 mA at 24 V
MAXIMUM SLEEP CURRENT
35 mA at 12 V, 32 mA at 24 V
CHARGE FAIL/EXCITATION RANGE
0 V to 35 V
INPUTS
DIGITAL INPUTS A to D
Negative switching
ANALOGUE INPUTS A to C
Configurable as:
Negative switching digital input
Resistive
OUTPUTS
DC OUTPUT A (FUEL) & B (START)
10 A short-term
5 A continuous at supply voltage
VOLT-FREE OUTPUTS C & D
2 A DC at supply voltage

AUXILIARY OUTPUTS C, D, E & F
2 A DC at supply voltage
PULSE PICK-UP

VOLTAGE RANGE
+/- 0.5 V to 70 V

FREQUENCY RANGE
5 Hz to 10,000 Hz
Environmental Testing Standards
ELECTRO-MAGNETIC COMPATIBILITY
BS EN 61000-6-2
EMC Generic Immunity Standard for the Industrial Environment.
BS EN 61000-6-4
EMC Generic Emission Standard for the Industrial Environment.
ELECTRICAL SAFETY
BS EN 60950
Safety of Information Technology Equipment, including Electrical Business Equipment.
TEMPERATURE
BS EN 60068-2-1
Ab/Ae Cold Test -30°C.
BS EN 60068-2-2
Bb/Be Dry Heat +70°C.
VIBRATION
BS EN 60068-2-6
Ten sweeps in each of three major axes.
5 Hz to 8 Hz @ +/-7.5 mm, 8 Hz to 500 Hz @ 2 gn.
HUMIDITY
BS EN 60068-2-30
Db Damp Heat Cyclic 20/55° C @ 95% RH 48 Hours.
BS EN 60068-2-78
Cab Damp Heat Static 40° C @ 93% RH 48 Hours.
SHOCK
BS EN 60068-2-27
Three shocks in each of three major axes 15 gn in 11 ms.
DEGREES OF PROTECTION PROVIDED BY ENCLOSURES
BS EN 60529
IP65 - Front of module when installed into the control panel with the optional sealing gasket.
Connection Diagram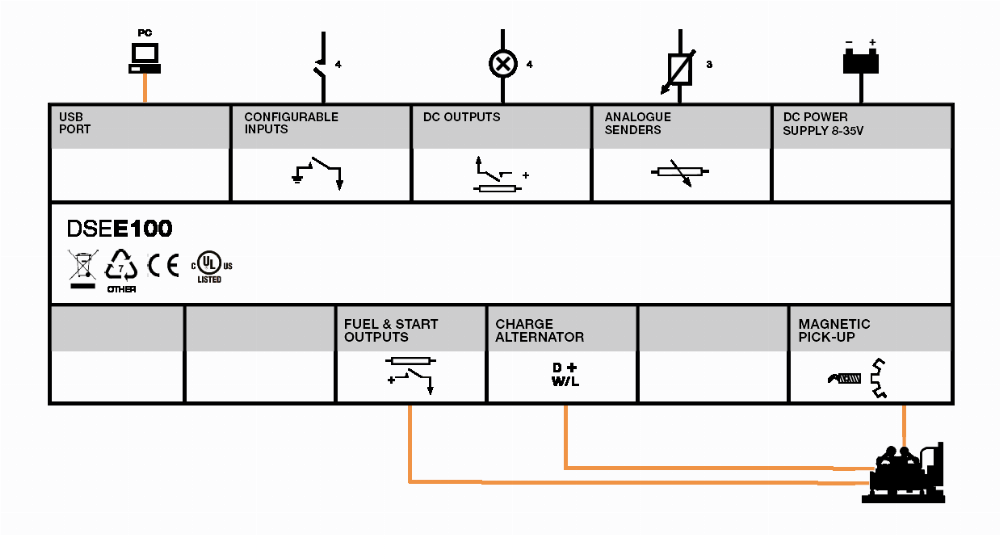 Product Variants
No product variants available