Intelligent Battery Chargers
DSE

9470 MKII
24 Volt 10 Amp Intelligent Battery Charger
UL RECOGNISED (USA & Canada) - NFPA 20 (QWIR2) COMPLIANT
The DSE9470 MKII is a UL recognised intelligent switch-mode battery charger that can be programmed for different charging curves. This helps to maximise battery life. The charger is programmed using the DSE Configuration Suite Software. The charger can be DIN rail or chassis mounted and has three built-in LEDs to indicate current charging status and fault conditions. The charger continues to operate during cranking and running and accepts multiple AC voltage connections.

To view UL Certification click here.
OVERALL SIZE
80 mm x 205 mm x 135 mm (3.1" x 8.0" x 5.3")
WEIGHT
0.78kg
PRODUCT VARIANTS
9470-01 - 24 V 10 A Intelligent Battery Charger (USA - UL - 110 V - 250 V)
9470-A4 - 24 V 10 A Intelligent Battery Charger (USA & Canada - UL - 110 V - 150 V)

Product Highlights
Key Features & Benefits
Key Features
Key Benefits
UL Recognised.
UL recognised for Canada & USA.
Intelligent three & four stage charging profiles.
Provides safe and complete charging and charge maintenance of various battery types.
12 volt & 24 volt configurable.
Flexibility and cost effectiveness of one charger to suit different voltage types.
Configurable for use as a 5 amp or 10 amp chargers.
Flexibility for use across different application types.
Adjustable current limit.
Output current can be adjusted to suit alternative battery sizes and prevent overcharging on custom curves.
Battery charger & power supply.
Versatile installation options.
Manual & automatic boost.
Provides a faster charging cycle and automatically maintains a full charge.
Digital microprocessor technology.
Provides accurate and reliable operation and safe charging and monitoring of various battery types.
Battery charging temperature compensation.
Delivers added protection.
Low output ripple/excellent line regulation.
Safe charging of both sealed and vented battery types.
Customisable charging curves.
Provides the flexibility to charge battery types not available in the standard curve library.
AC input under/over voltage.
Protects the charger and provides alarms in the event of an AC input failure.
Battery charger over voltage protection.
Provides a warning that the battery voltage is above that specified for the type of battery.
Battery charger over current protection.
Provides a warning that the battery is drawing a current above the configuration of the type of battery connected.
Battery under voltage alarm.
Provides warning in the event that the battery voltage is low and may not be charging.
Auto battery detection.
Provides a warning if a battery Is not connected or has been disconnected.
Auto self-test function.
The battery charger self diagnoses at regular intervals, providing advance warning of any internal fault.
Output short circuit and inversion polarity with auto recovery.
Protects the charger in the event of a short circuit or crossed polarity with automatic charger on correction of the fault.
Auto power de-rating at high ambient temperatures.
Prevents damage to the battery and charger caused by overcharging in warm climates.
Optional battery temperature compensation using a PT1000 temperature sensor.
Direct battery temperature measurement, Increases battery performance to the maximum possible at given temperature as specified by the battery manufacturer.
Cell charge boost and equalizing.
Helps to improve battery life and operating performance.
External system integration via MODBUS RTU using RS485.
Provides protocols for monitoring of the battery charging and charger status from a remote location.
DSE Configuration Suite PC Software.
Flexible configuration of the battery charger to suit battery parameters and installations.
External remote display option (DSE2541).
Remote display for monitoring of the battery charging and charger status from a remote location.
86% operating efficiency.
Reliability, low running costs and cool running.
Configurable soft-start feature using DSE Configuration Suite software.
Allows the charger to adapt to increases in output voltage.
View remaining charge time via SCADA.
Provides an easy way to see how long battery has to reach 100%.
Digital input within SCADA.
Adds increased flexibility to the product.
Configurable bulk to absorption transition.
Allows the transition from bulk to absorption to be configured.
Li-ion charging profile.
Enables the charger to work with li-ion battery cells.
Auto voltage detection detects if a 12V or 24V battery is connected.
Aids effective configuration.
Password protection.
Protects against other users changing existing charging profiles.
Configurable temperature shutdown.
A slider within the pc software makes the over temperature alarm settings configurable.
Configurable mains relay functionality.
A disable feature slider within the pc software stops relays changing state when a mains failure occurs.
Lead crystal charging profile.
Supports lead crystal charging profiles.
Deep sleep mode.
Becomes active when the charger is connected to a battery and no mains (utility) supply is available.
Battery health check/
In the event of a battery becoming unhealthy an alarm will activate.
PSU mode.
Allows the charger to operate as a conventional constant voltage power supply.
Battery voltage sensing (Down to 1 volt).
The charger can measure the voltage on the battery down to 1 V.
SCADA digital input status.
Provides active/non active status information on the digital inputs through SCADA.
Max current mode.
The charger can switch to maximum output current manually via a digital input or automatically.
New gencomm registers.
Several new gencomm registers have been added with the information being displayed in SCADA.
Specification
AC SUPPLY
VOLTAGE RANGE
90 V to 305 V (L-N)
FREQUENCY RANGE
48 Hz to 64 Hz (L-N)
DC OUTPUT
DSE9470 OUTPUT
10 A DC at 24 V DC

RIPPLE AND NOISE
<1%
EFFICIENCY
>86%
REGULATION
LINE
<0.5%
LOAD
2%
TEMPERATURE SENSOR INPUT
PT1000
PROTECTIONS

Short Circuit
DC Over Voltage
DC Over Current
Reverse Polarity
Over Temperature
AC Under & Over Voltage
CHARGE FAILURE RELAY
3 A at 30 V DC volt free relay

Environmental Testing Standards
ELECTRO-MAGNETIC COMPATIBILITY
BS EN 61000-6-2
EMC Generic Immunity Standard for the Industrial Environment.
BS EN 61000-6-4
EMC Generic Emission Standard for the Industrial Environment.
TEMPERATURE
BS EN 60068-2-1
Ab/Ae Cold Test -30°C.
BS EN 60068-2-2
Bb/Be Dry Heat +70°C.
VIBRATION
BS EN 60068-2-6
Ten sweeps in each of three major axes.
5 Hz to 8 Hz @ +/-7.5 mm, 8 Hz to 500 Hz @ 2 gn.
HUMIDITY
BS EN 60068-2-30
Db Damp Heat Cyclic 20/55° C @ 95% RH 48 Hours.
BS EN 60068-2-78
Cab Damp Heat Static 40° C @ 93% RH 48 Hours.
SHOCK
BS EN 60068-2-27
Three shocks in each of three major axes 15 gn in 11 ms.
Connection Diagram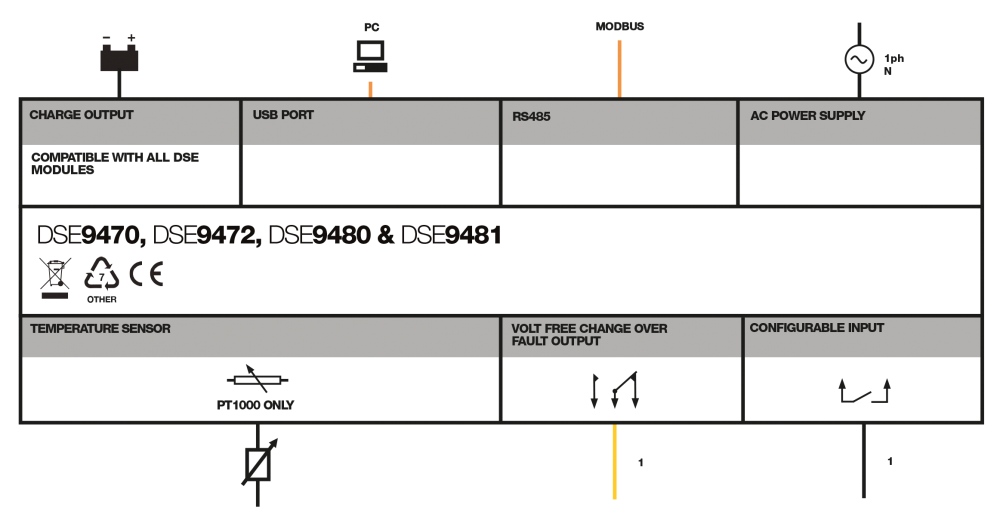 Product Variants
9470-01 - 24 V 10 A Intelligent Battery Charger (USA - UL - 110 V - 250 V)
9470-A4 - 24 V 10 A Intelligent Battery Charger (USA & Canada - UL - 110 V - 150 V)