DSE

9701
Vertical 24 volt 5 amp Battery Charger
The DSE9701 24 volt 5 amp switch-mode battery charger keeps batteries charged to their maximum capacity at all times. It is designed for permanent battery connection and can be DIN rail or chassis mounted. The charger includes a normal or overload condition LED indicator on the front to assist with status identification. The charger operates during cranking and running and accepts multiple AC voltage connections.
The charger incorporates premium grade capacitors and components to ensure premium levels of efficiency. The robustness of the design makes the charger perfect for heavy and light industrial environments.
Read More
DIN RAIL MOUNTED (W x H x D)
110 mm x 133 mm x 48 mm (4.3" x 5.2" x 1.9")
CHASSIS MOUNTED (W x H x D)
112 mm x 153 mm x 48 mm (4.4" x 6.0" x 1.9")
WEIGHT
0.4kg
PRODUCT VARIANTS
9701-01 - Vertical 24 Volt 5 Amp Battery Charger (90-305v 50/60Hz)
Product Highlights
Key Features & Benefits
Key Features
Key Benefits
Constant current/constant voltage.
Provides flexibility for operation with various battery type technologies.
Automatic float mode return.
Prevents overcharging battery damage.
Low output ripple.
Safe charging of both sealed and vented battery types.
Reverse polarity, short-circuit and current limiting protection. Auto recovery on fault condition removal.
Allows control over the number of sets starting at any one time. E.g. All start or start on load demand.
Cell charge boost and equalizing.
Helps to improve battery life and operating performance.
Power save mode.
Ensures the battery maintains enough power at all times.
No moving parts.
Ensures longer battery charger life.
Chargers can be linked together.
Increases the current output available.
Charge fail output.
Provides remote warning in the event of a power failure.
More than 80% efficiency across full operating range.
Provides an efficient, economical and cool running battery charger.
Dedicated boost connection terminals.
Provides a quicker charging cycle for discharged batteries.
Specification
AC SUPPLY
FREQUENCY RANGE
45 Hz to 65 Hz
VOLTAGE RANGE
90 V to 305 V (L-N)
DC OUTPUT
5 A DC 24 V DC
RIPPLE AND NOISE
<1%
EFFICIENCY
>80%
REGULATION
LINE
<0.001% Vo
LOAD
1% Vo
PROTECTIONS
Short Circuit
Over Voltage
Over Current
Reverse Polarity
Environmental Testing Standards
ELECTRO-MAGNETIC COMPATIBILITY
BS EN 61000-6-2
EMC Generic Immunity Standard for the Industrial Environment.
BS EN 61000-6-4
EMC Generic Emission Standard for the Industrial Environment.
TEMPERATURE
BS EN 60068-2-1
Ab/Ae Cold Test -30°C.
BS EN 60068-2-2
Bb/Be Dry Heat +70°C.
VIBRATION
BS EN 60068-2-6
Ten sweeps in each of three major axes.
5 Hz to 8 Hz @ +/-7.5 mm, 8 Hz to 500 Hz @ 2 gn.
HUMIDITY
BS EN 60068-2-30
Db Damp Heat Cyclic 20/55° C @ 95% RH 48 Hours.
BS EN 60068-2-78
Cab Damp Heat Static 40° C @ 93% RH 48 Hours.
SHOCK
BS EN 60068-2-27
Three shocks in each of three major axes 15 gn in 11 ms.
Connection Diagram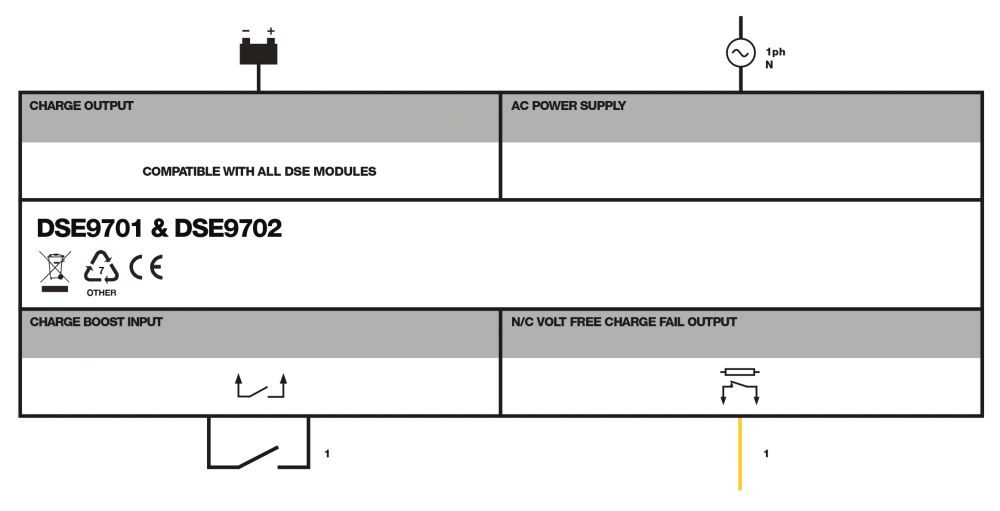 Product Variants
9701-01 - 24 V 5 A VBC 90V-305V 50/60HZ