DSE

160
Self-Seeking Power Supply
The DSE160 Self-Seeking Power Supply has been designed for use with DSE3xx control modules. The DSE160 can be supplied from a mains (utility), generator or battery and provides a power supply output that gives DC power to the ATS controller. When the mains (utility) supply fails the DSE160 automatically switches to providing generator or battery power. Three red LEDs on the front of the unit show the operating status at all times. The DSE160 is available in 12 and 24 volt versions and provides comprehensive short circuit protection.
OVERALL
136 mm x 140 mm x 63 mm (5.4" x 5.5" x 2.5")
WEIGHT
0.4kg
PRODUCT VARIANTS

0160-00 - 12 Volt Self Seeking Power Supply (110v-277v 50.60Hz)
0160-01 - 24 Volt Self Seeking Power Supply (110v-277v 50/60Hz)
Product Highlights
Key Features & Benefits
Key Features
Key Benefits
12 volt & 24 volt variants.
Provides application flexibility.
LED indicators.
Provides operational status at all times.
Suitable for use as an AC/DC power supply.
Compact size ensures product does not take up too much space inside the panel.
Powered by mains (utility) or generator or battery.
Versatile installation options.
Wide operating input voltage.
Suitable for a wide number of different applications.
Short circuit & over voltage protection.
Prevents damage to the charger and battery, to provide secure and reliable operation.
Less than 1% output ripple.
Provides safe and complete charging and charge maintenance of various battery types.
Specification
AC SUPPLY
VOLTAGE RANGE
90 V to 305 V (L-N)
FREQUENCY RANGE
48 Hz to 64 Hz (L-N)
DC OUTPUT
OUTPUT
1 A DC at 12 V DC
1 A DC at 24 V DC
CURRENT LIMIT
1.5 A DC

RISE TIME
<20 ms

RIPPLE AND NOISE
<1%

EFFICIENCY
>80%
REGULATION
LINE
<0.1% Vo

LOAD
<5% Vo

PROTECTIONS

Short Circuit
Over Current
Reverse Polarity

Environmental Testing Standards
ELECTRO-MAGNETIC COMPATIBILITY
BS EN 61000-6-2
EMC Generic Immunity Standard for the Industrial Environment.
BS EN 61000-6-4
EMC Generic Emission Standard for the Industrial Environment.
ELECTRICAL SAFETY
BS EN 60950
Safety of Information Technology Equipment, including Electrical Business Equipment.
TEMPERATURE
BS EN 60068-2-1
Ab/Ae Cold Test -30°C.
BS EN 60068-2-2
Bb/Be Dry Heat +70°C.
VIBRATION
BS EN 60068-2-6
Ten sweeps in each of three major axes.
5 Hz to 8 Hz @ +/-7.5 mm, 8 Hz to 500 Hz @ 2 gn.
HUMIDITY
BS EN 60068-2-30
Db Damp Heat Cyclic 20/55° C @ 95% RH 48 Hours.
BS EN 60068-2-78
Cab Damp Heat Static 40° C @ 93% RH 48 Hours.
SHOCK
BS EN 60068-2-27
Three shocks in each of three major axes 15 gn in 11 ms.
Connection Diagram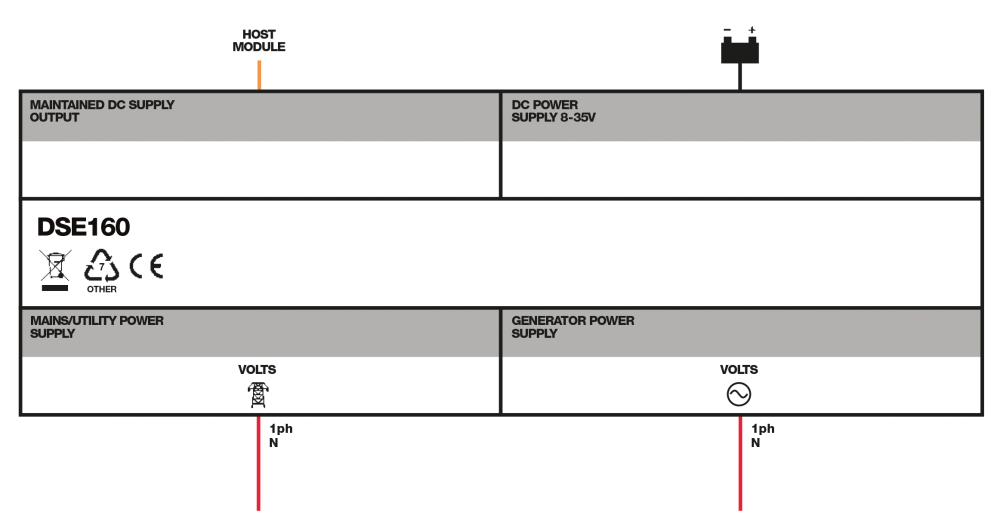 Product Variants
0160-00 - 12V SELF SEEKING PSU 110V-277V 50/60HZ
0160-01 - 24V SELF SEEKING PSU 110V-277V 50/60HZ