Digital Automatic Voltage Regulators (AVR)
DSE

A106
Auxiliary / Shunt Powered Digital AVR
The DSEA106 Digital Automatic Voltage Regulator (AVR) is designed to regulate the output voltage of an AC alternator. The DSEA106 is supplied by either a stator auxiliary winding or a shunt system taking the power from the output windings.
The DSEA106 eliminates the complexities involved with analogue AVR designs. Analogue AVR designs can be over sensitive to changes in temperature which affects stability.
Read More
OVERALL SIZE
167 mm x 109 mm x 61 mm (6.6" x 4.3" x 2.4")
PRODUCT VARIANTS
A106-01 - A106 Digital AVR (AUX)
Product Highlights
Key Features & Benefits
Key Features
Key Benefits
Digital electronic design.
Ensures a smooth, stable, regulated AC output from the alternator.
Auxiliary or Shunt Power supplies.
Suits a wide range of alternators.
Soft start ramping.
Helps to minimise voltage overshoot.
Loss of voltage sensing protection.
Detects disconnection of the voltage sensing connections.
Quadrature CT connection.
Suitable for synchronising and load sharing applications.
DIP Switch selection.
Provides voltage, frequency and stability selection.
Potentiometer adjustment.
Provides adjustments for voltage set points, droop, UFRO, proportional and integral gain.
Additional Features
Remote voltage adjustment
Compatible with all DSE synchronising and load sharing controllers.
Configuration using the DSE Configuration Suite PC Software, using the DSE814 interface.
LED Indication for fault and operating status.
Maximum current rating 15 A DC for 10 seconds.
Comprehensive protections, Under Frequency Roll Off (UFRO) protection, over excitation protection etc.
An ideal option for both OEM and retro-fit solutions.
Specification
POWER SUPPLY
VOLTAGE RANGE
100 V AC to 300 V AC (Ph to N/Ph)
FREQUENCY RANGE
40 Hz to 180 Hz
ALTERNATOR OUTPUT SENSING
VOLTAGE RANGE
15 V AC to 600 V AC (Ph to N/Ph)
FREQUENCY RANGE
40 Hz to 65 Hz
EXCITATION OUTPUT
EXCITATOR FIELD WINDING IMPEDANCE
5 Ω to 50 Ω
CONTINUOUS VOLTAGE RATING
0 V DC to 100 V DC
CONTINUOUS CURRENT RATING
0 A DC to 7 A DC
MAXIMUM CURRENT RATING
15 A DC for 10 seconds
QUADRATURE DROOP CT
MAXIMUM SECONDARY CURRENT
5 A AC
BURDEN
0.25 VA
ACCURACY
1%
REMOTE VOLTAGE ADJUSTMENT
POTENTIOMETER
5 kΩ
VOLTAGE INPUT
0 V DC to 10 V DC
Environmental Testing Standards
ELECTRO-MAGNETIC COMPATIBILITY
BS EN 61000-6-2
EMC Generic Immunity Standard for the Industrial Environment.
BS EN 61000-6-4
EMC Generic Emission Standard for the Industrial Environment.
ELECTRICAL SAFETY
BS EN 60950
Safety of Information Technology Equipment, including Electrical Business Equipment.
TEMPERATURE
BS EN 60068-2-1
Ab/Ae Cold Test -30°C.
BS EN 60068-2-2
Bb/Be Dry Heat +70°C.
VIBRATION
BS EN 60068-2-6
Ten sweeps in each of three major axes.
5 Hz to 8 Hz @ +/-7.5 mm, 8 Hz to 500 Hz @ 2 gn.
HUMIDITY
BS EN 60068-2-30
Db Damp Heat Cyclic 20/55° C @ 95% RH 48 Hours.
BS EN 60068-2-78
Cab Damp Heat Static 40° C @ 93% RH 48 Hours.
SHOCK
BS EN 60068-2-27
Three shocks in each of three major axes 15 gn in 11 ms.
Connection Diagram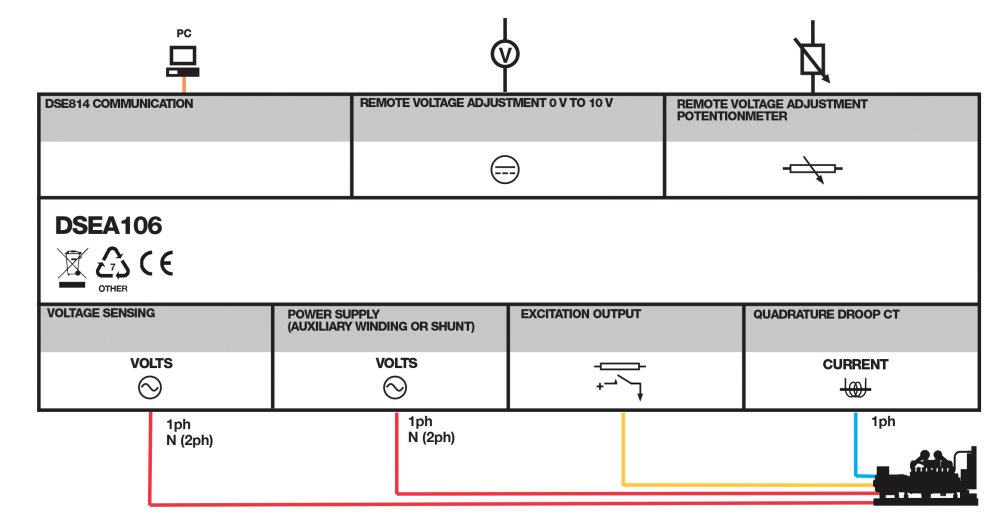 Product Variants
No product variants available