Digital Automatic Voltage Regulators (AVR)
DSE

A106 MKII
Digital Automatic Voltage Regulator (AVR)
The DSEA106 MKII Digital Automatic Voltage Regulator (AVR) builds on the success of the DSEA106 product providing additional features to enhance customer applications. The product regulates the output voltage of an AC alternator and is supplied by a stator auxiliary winding or a shunt system taking power from the output windings.
The product provides higher levels of stability compared to analogue designs by maintaining a smooth, stable and regulated AC output voltage that is unaffected by the connected electrical load.
Please Note:
The DSE
815
interface is required for programming.
To view UL Certification click here.
OVERALL SIZE
179 mm x 108 mm x 61 mm (7.1" x 4.3" x 2.4")
PRODUCT VARIANTS
A106-02 - A106 Digital AVR (AUX)
Product Highlights
Key Features & Benefits
Key Features
Key Benefits
Soft start ramping.
Helps to minimise voltage overshoot.
Under frequency roll off protection with optional instantaneous step.
Loss of voltage sensing protection.
Detects disconnection of the voltage sensing connections.
Over excitation protection.
Protects AVR & alternator.
Remote voltage adjustment using -10 V to 10 V signal and 5kΩ potentiometer.
Provides adjustments for voltage set points.
Remote voltage adjustment potentiometer open circuit protection.
Protects against wiring faults.
LED Indication for fault and operating status.
Provides comprehensive and clear indication of operation and parameters.
Chassis mount potted enclosure.
Provides protection against moisture.
Spade terminals.
Quick secure connection.
DIP Switch selection.
Provides voltage, frequency and stability selection.
Specification
POWER SUPPLY
VOLTAGE RANGE
100 V AC to 300 V AC (Ph to N/Ph)
FREQUENCY RANGE
40 Hz to 180 Hz
ALTERNATOR OUTPUT SENSING
VOLTAGE RANGE
15 V AC to 600 V AC (Ph to N/Ph)
FREQUENCY RANGE
40 Hz to 65 Hz
EXCITATION OUTPUT
EXCITATOR FIELD WINDING IMPEDANCE
5 Ω to 50 Ω
CONTINUOUS VOLTAGE RATING
0 V DC to 100 V DC
CONTINUOUS CURRENT RATING
0 A DC to 7 A DC
MAXIMUM CURRENT RATING
15 A DC for 10 seconds
QUADRATURE DROOP CT
MAXIMUM SECONDARY CURRENT
5 A AC
BURDEN
0.25 VA
ACCURACY
1%
REMOTE VOLTAGE ADJUSTMENT
POTENTIOMETER
5 kΩ
VOLTAGE INPUT
-10 V DC to 10 V DC
Environmental Testing Standards
ELECTRO-MAGNETIC COMPATIBILITY
BS EN 61000-6-2
EMC Generic Immunity Standard for the Industrial Environment.
BS EN 61000-6-4
EMC Generic Emission Standard for the Industrial Environment.
ELECTRICAL SAFETY
BS EN 60950
Safety of Information Technology Equipment, including Electrical Business Equipment.
TEMPERATURE
BS EN 60068-2-1
Ab/Ae Cold Test -30°C.
BS EN 60068-2-2
Bb/Be Dry Heat +70°C.
VIBRATION
BS EN 60068-2-6
Ten sweeps in each of three major axes.
5 Hz to 8 Hz @ +/-7.5 mm, 8 Hz to 500 Hz @ 2 gn.
HUMIDITY
BS EN 60068-2-30
Db Damp Heat Cyclic 20/55° C @ 95% RH 48 Hours.
BS EN 60068-2-78
Cab Damp Heat Static 40° C @ 93% RH 48 Hours.
SHOCK
BS EN 60068-2-27
Three shocks in each of three major axes 15 gn in 11 ms.
Connection Diagram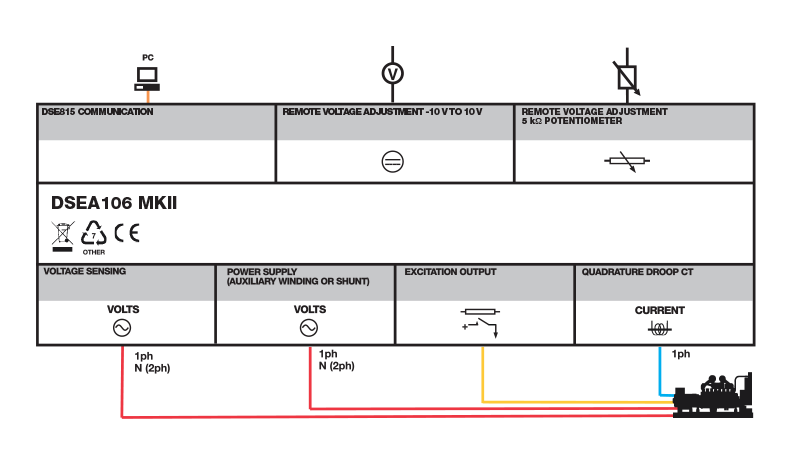 Product Variants
No product variants available