Engine & Pump Control Modules (E-Series)
DSE

103 MKII
Speed Switch Control Module
The DSE103 MKII Speed Switch Control Module monitors the speed of an engine by detecting pulses from a magnetic pick-up device or alternative output.
Independent relays can be operated at different speed settings. The relays can be set between 0-400% of the engines rated running speed. This flexibility allows the module to be used for multiple application types including under/over speed and crank disconnect.
Read More
OVERALL SIZE
88 mm x 72 mm x 26 mm (3.4" x 2.8" x 1.0")
PANEL CUTOUT SIZE
N/A
MAXIMUM PANEL THICKNESS
N/A
WEIGHT
0.12kg
PRODUCT VARIANTS
0103-01 - 103MKII Speed Switch Control Module
Product Highlights
Key Features & Benefits
Key Features
Key Benefits
Configurable trip points.
Provides flexibility for setting the trip parameters to the required engine specifications or application requirements.
Configurable nominal speed.
Allows accurate setting of the required running speed value.
Trip points can be latching or non-latching.
Trips can lock the system out until reset by user intervention (latched), or reset on removal of the trip fault (non Latching).
Analogue meter output.
Provides the option for visual speed indication.
Potted electronics.
Prevents water ingress and vibration damage.
Spade terminals.
Convenient and easy connections.
Specification
DC SUPPLY
CONTINUOUS VOLTAGE RATING
8 V to 35 V Continuous

CRANKING DROPOUTS
Able to survive 0 V for 50 mS, providing supply was at least 10 V before dropout and supply recovers to 5 V. This is achieved without the need for internal batteries.

MAXIMUM OPERATING CURRENT
95 mA at 12 V, 100 mA at 24 V

MINIMUM OPERATING CURRENT
21 mA at 12 V, 22 mA at 24 V

OUTPUTS
TRIP 1 & 2
16 A at 35 V DC/AC

TACHOMETER
1mA Full Scale

ALTERNATOR
VOLTAGE RANGE
15 V - 333 V AC (L-N) RMS

FREQUENCY RANGE
3.5 Hz to 75 Hz

MAGNETIC PICK UP
VOLTAGE RANGE
+/- 0.7 V to 70 V RMS

FREQUENCY RANGE
10,000 Hz (max)


TBA
Environmental Testing Standards
ELECTRO-MAGNETIC COMPATIBILITY
BS EN 61000-6-2
EMC Generic Immunity Standard for the Industrial Environment.
BS EN 61000-6-4
EMC Generic Emission Standard for the Industrial Environment.
ELECTRICAL SAFETY
BS EN 60950
Safety of Information Technology Equipment, including Electrical Business Equipment.
TEMPERATURE
BS EN 60068-2-1
Ab/Ae Cold Test -30°C.
BS EN 60068-2-2
Bb/Be Dry Heat +70°C.
VIBRATION
BS EN 60068-2-6
Ten sweeps in each of three major axes.
5 Hz to 8 Hz @ +/-7.5 mm, 8 Hz to 500 Hz @ 2 gn.
HUMIDITY
BS EN 60068-2-30
Db Damp Heat Cyclic 20/55° C @ 95% RH 48 Hours.
BS EN 60068-2-78
Cab Damp Heat Static 40° C @ 93% RH 48 Hours.
SHOCK
BS EN 60068-2-27
Three shocks in each of three major axes 15 gn in 11 ms.
DEGREES OF PROTECTION PROVIDED BY ENCLOSURES
BS EN 60529
IP65 - Front of module when installed into the control panel with the optional sealing gasket.
Connection Diagram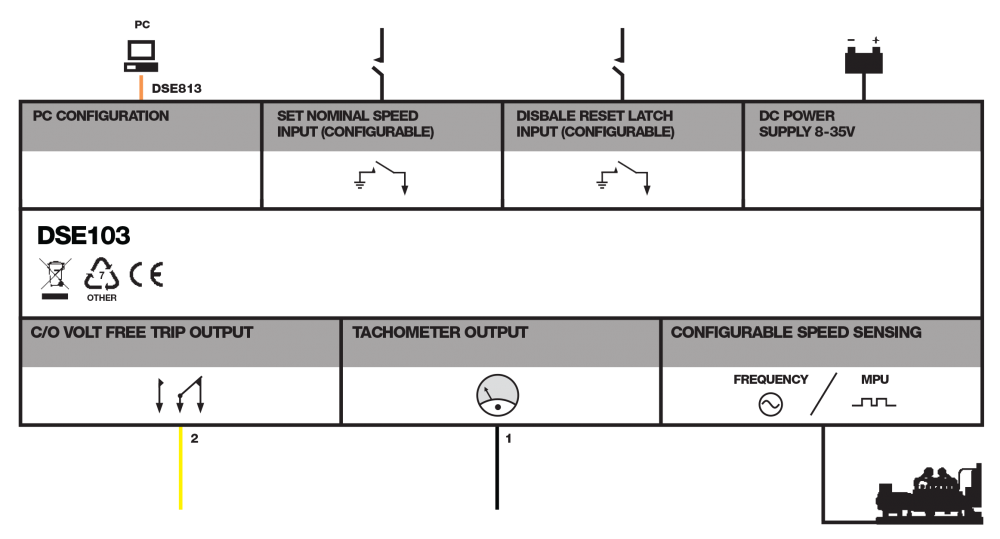 Product Variants
0103-01 - DSE 103 MKII SPEED SWITCH