Intelligent Battery Chargers
DSE

9462 (Dual Output)
Dual Output Intelligent Battery Charger
Our Multiple Output Chargers have been developed to provide intelligent, lightweight charging for use on-board standby vehicles and systems that use multiple applications or loads. Chargers within the range can be configured to provide different output levels and programmed for optimum performance with different charging curves to maximise the life of the battery.

The DSE9462 is configured using the DSE Configuration Suite software via a USB connection. The charger is mounted to a chassis using the fixing holes that are built into the case. The charger's stylish design includes four coloured LEDs to indicate charging status and fault conditions. For added durability, reliability and silent operation the charger utilises solid state technology with no moving parts.
Read More
OVERALL SIZE
290 mm x 157 mm x 67 mm (9.4" x 10.4 " x 3.5")
WEIGHT
1.8kg
PRODUCT VARIANTS
9462-01 - 24 Volt 15 Amp & 12 Volt 10 Amp Dual Output Intelligent Battery Charger (90-305v)

Product Highlights
Key Features & Benefits
Key Features
Key Benefits
Intelligent two, three & four stage charging profiles.
Provides safe and complete charging and charge maintenance of various battery types.
Remote voltage sensing.
To compensate for voltage drop due to cable resistance.
Fully independent. Adjustable current limit on both charge outputs. Output 1 (24V) max 15 Amp. Output 2 (12V) max 10 Amp.
Provides flexibility for multiple installation options.
Can be used as a battery charger, power supply or both at the same time.
Offers the flexibility of one product to cater for both installation requirements.
Automatic or manual boost and storage charge functions to help maintain battery condition.
Provides a faster charging cycle and automatically maintains a full charge.
Digital microprocessor technology.
Provides accurate and reliable operation and safe charging and monitoring of various battery types.
Low output ripple.
Safe charging of both sealed and vented battery types.
Four red indicator LEDs.
Enables fault conditions to be resolved quickly and provides instant system information to aid preventative maintenance.
AC input under/over voltage.
Protects the charger and provides alarms in the event of an AC input failure.
Battery charger output over voltage.
Provides a warning that the battery voltage is above that specified for the type of battery.
Battery charger output over current.
Provides a warning that the battery is drawing a current above the configuration of the type of battery connected.
Battery low voltage detection.
Provides warning in the event that the battery voltage is low and may not be charging.
Output short circuit and inversion polarity with auto recovery.
Protects the charger in the event of a short circuit or crossed polarity with automatic charger on correction of the fault.
Automatic power de-rating at high ambient temperatures.
Prevents damage to the battery and charger caused by overcharging in warm climates.
Optional battery temperature compensation using a PT1000 temperature sensor.
Direct battery temperature measurement, Increases battery performance to the maximum possible at given temperature as specified by the battery manufacturer.
Additional Features
Boosts and equalises cell charge to improve battery performance and life.
Eco-Power mode.
External system integration via J1939 CANbus.
Specification
AC SUPPLY
VOLTAGE RANGE
90 V to 305 V (L-N)
FREQUENCY RANGE
48 Hz to 64 Hz (L-N)
DC OUTPUT RATING
CHANNEL 1
15 A DC at 24 V DC
CHANNEL 2
10 A DC at 12 V DC

RIPPLE AND NOISE
2% x Vo
EFFICIENCY AND POWER FACTOR
>90% at 0.9pf
REGULATION
LINE
<0.5% x Vo
LOAD
1% x Vo
TEMPERATURE SENSOR INPUTS
NUMBER
2
PROTECTIONS
Short Circuit
DC Under & Over Voltage
DC Over Current
Reverse Polarity
Over Temperature
AC Under & Over Voltage
Environmental Testing Standards
ELECTRO-MAGNETIC COMPATIBILITY
BS EN 61000-6-2
EMC Generic Immunity Standard for the Industrial Environment.
BS EN 61000-6-4
EMC Generic Emission Standard for the Industrial Environment.
ELECTRICAL SAFETY
BS EN 60950
Safety of Information Technology Equipment, including Electrical Business Equipment.
TEMPERATURE
BS EN 60068-2-1
Ab/Ae Cold Test -30°C.
BS EN 60068-2-2
Bb/Be Dry Heat +70°C.
VIBRATION
BS EN 60068-2-6
Ten sweeps in each of three major axes.
5 Hz to 8 Hz @ +/-7.5 mm, 8 Hz to 500 Hz @ 2 gn.
HUMIDITY
BS EN 60068-2-30
Db Damp Heat Cyclic 20/55° C @ 95% RH 48 Hours.
BS EN 60068-2-78
Cab Damp Heat Static 40° C @ 93% RH 48 Hours.
SHOCK
BS EN 60068-2-27
Three shocks in each of three major axes 15 gn in 11 ms.
Connection Diagram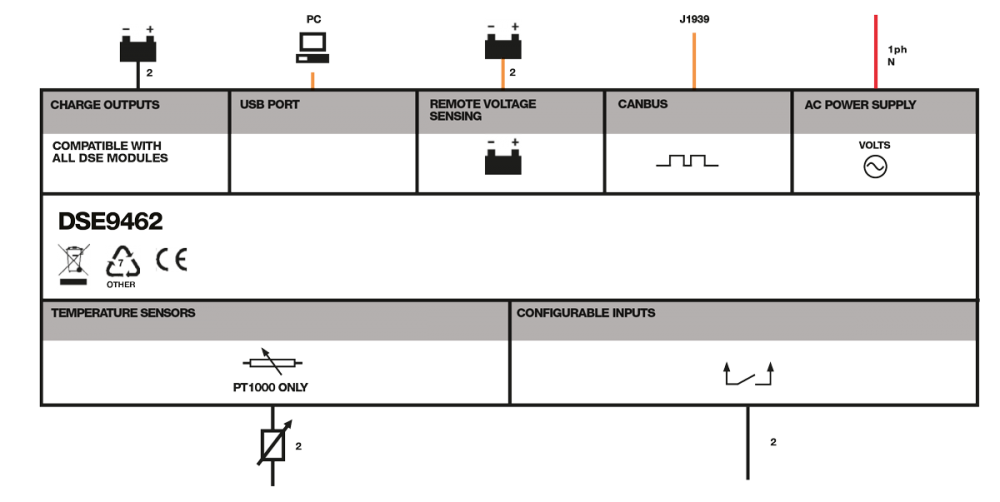 Product Variants
No product variants available