Mains (Utility) Protection Relays & Power Meters
DSE

P100
Mains Decoupling Relay
FULLY G99/1 & G98/1 COMPLIANT
G99 Type Tested Variant - Now Available (DSEP100-02)
The DSEP100 G99/G59 Mains(utility) Protection Relay detects changes in the mains (utility) supply to which the distributed energy resource (DER) is connected.
If a mains (utility) failure is detected, the DSEP100 will disconnect the equipment in line with national and international DNO requirements. This removes the risk of an islanded grid being formed and protects DER equipment.
DSEP100 is suitable for use with all DER equipment supplying power in parallel with the mains (utility) supply. This includes diesel generators and renewable energies such as photovoltaic (solar) and wind turbine installations etc.
The DSEP100-02 G99 type tested variant is supplied with pre-configured settings to comply with G99 that cannot be changed by the user.
CONNECTING TO THE MAINS (UTILITY)

From 27th April 2019 new Grid Codes replaced G59 in GB. From that date all new distributed energy resources (DERs), formally falling under G59 must comply with new regulation G99.
The DSEP100 Mains Decoupling Relay is compatible with G99.
NB. Existing DERs in GB (connected prior to 27th April 2019) need to be aware that G59 has also been amended. This means that connected equipment, which complied to G59 on installation, may no longer comply.
If you have an existing DSEP100 no new equipment is necessary. Simply change the settings through DSE Configuration Suite PC software.

To view UL Certification click here.
Read More
OVERALL SIZE
157 mm x 95 mm x 67 mm (6.2" x 3.5" x 2.6")
PANEL CUTOUT SIZE
N/A
MAXIMUM PANEL THICKNESS
N/A
WEIGHT
0.38kg
PRODUCT VARIANTS
P100-01 - P100 Mains (Utility) Decoupling Relay
P100-02 - P100 Mains (Utility) Decoupling Relay (G99 Type Tested)

Product Highlights
Key Features & Benefits
Key Features
Key Benefits
Detects mains (utility) failures when in parallel with another supply.
Eliminates the possibly of power being supplied into an islanded grid.
RoCoF.
Provides accurate & complete protection.
Positive sequence over voltage/negative sequence under voltage.
Detects imbalances in the measured system.
Zero sequence over voltage protection (NVD protection).
Detects neutral voltage displacement.
Two-stage under & over voltage and frequency protection.
Covers short-term and long-term voltage disturbances.
Lockable security tab to prevent configuration changes after commissioning.
Ensures the device remains tamper proof once installed.
10 second rolling average over voltage protection.
Protects the device and connected equipment.
World standard integration (G99/1, G98/1, G59/3, G83,3 & C10/11).
Provides flexibility and choice in country and applications.
Configurable event log (250).
Provides access to historical alarms and operational status.
DSE Configuration Suite PC Software.
Provides complete user-friendly configuration and easy-to-use high-level system control & monitoring.
G99 type tested variant.
Protection settings are configured during the manufacturing process and cannot be changed by the user.
Additional Features
Voltage asymmetry protection.
Vector shift protection.
Incorrect phase sequence protection.
True 3-phase mains (utility) RMS measurement.
Front panel/PC software configuration.
SCADA monitoring.
Alarm reset button.
Configurable volt free changeover relays (5).
DIN rail mount.
Specification
DC POWER SUPPLY
CONTINUOUS VOLTAGE RATING
8 V to 35 V Continuous

CRANKING DROPOUTS
Able to survive 0 V for 50 mS, providing supply was at least 10 V before dropout and supply recovers to 5 V. This is achieved without the need for internal batteries.

MAXIMUM OPERATING CURRENT
360 mA at 12 V, 170 mA at 24 V
AC POWER SUPPLY
CONTINUOUS VOLTAGE RATING
85 V to 305 V AC (Ph to N)
CONTINUOUS FREQUENCY RATING
3.5 Hz to 75 Hz

MAXIMUM OPERATING CURRENT
58 mA at 110 V AC (Ph to N)
28 mA at 230 V AC (Ph to N)
MAINS (UTILITY)
VOLTAGE RANGE
15 V to 333 V AC (Ph to N)
26 V to 576 V AC (Ph to Ph)
FREQUENCY RANGE
3.5 Hz to 75 Hz
OUTPUTS
OUTPUT A, B, C, D & E
Volt-Free Change-Over
5 A at 30 V DC
8 A at 250 V AC
Environmental Testing Standards
ELECTRO-MAGNETIC COMPATIBILITY
BS EN 61000-6-2
EMC Generic Immunity Standard for the Industrial Environment.
BS EN 61000-6-4
EMC Generic Emission Standard for the Industrial Environment.
ELECTRICAL SAFETY
BS EN 60950
Safety of Information Technology Equipment, including Electrical Business Equipment.
TEMPERATURE
BS EN 60068-2-1
Ab/Ae Cold Test -30°C.
BS EN 60068-2-2
Bb/Be Dry Heat +70°C.
VIBRATION
BS EN 60068-2-6
Ten sweeps in each of three major axes.
5 Hz to 8 Hz @ +/-7.5 mm, 8 Hz to 500 Hz @ 2 gn.
HUMIDITY
BS EN 60068-2-30
Db Damp Heat Cyclic 20/55° C @ 95% RH 48 Hours.
BS EN 60068-2-78
Cab Damp Heat Static 40° C @ 93% RH 48 Hours.
SHOCK
BS EN 60068-2-27
Three shocks in each of three major axes 15 gn in 11 ms.
Connection Diagram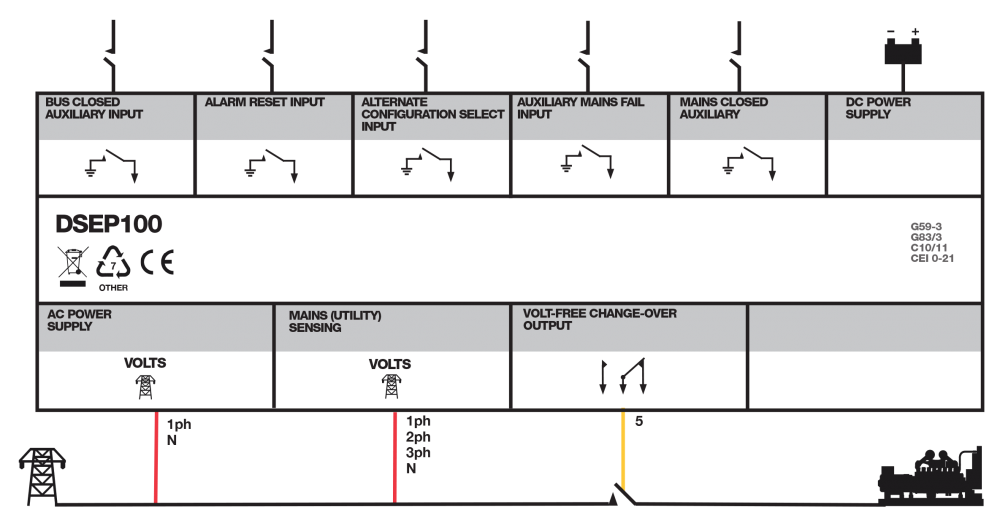 Product Variants
P100-01 - P100 MAINS DECOUPLING RELAY
P100-02 - P100 MAINS DECOUPLING RELAY (G99 TYPE TESTED)