DSE

123
Analogue Load Share Lines Interface
The DSE123 is an intelligent device that allows DSE load share modules to communicate with non-DSE control modules that are communicating over universal analogue load share lines. This means that DSE load share controls can be added to non-DSE load share systems.
This flexibility allows existing systems to be expanded when the original controllers are no longer available.
Read More
OVERALL SIZE
161 mm x 78 mm x 76 mm (6.3" x 3.1" x 3.0")
WEIGHT
0.3kg
PRODUCT VARIANTS
0123-01 - 123 Analogue Loadshare Lines Interface
Product Highlights
Key Features
Key Features
Plug & socket connections.
Simple switch configuration.
Allows DSE 5510/7510 and 8610 modules to be integrated to existing non-DSE systems.
Compatible with DEIF, Delco, Woodward and Barber Colman.
Specification
DC SUPPLY
CONTINUOUS VOLTAGE RATING
8 V to 35 V Continuous

CRANKING DROPOUTS
Able to survive 0 V for 50 mS, providing supply was at least 10 V before dropout and supply recovers to 5 V. This is achieved without the need for internal batteries. LEDs and backlight will not be maintained during cranking.

MAXIMUM OPERATING CURRENT
150 mA at 12 V, 80 mA at 24 V

MAXIMUM STANDBY CURRENT
150 mA at 12 V, 80 mA at 24 V

Environmental Testing Standards
ELECTRO-MAGNETIC COMPATIBILITY
BS EN 61000-6-2
EMC Generic Immunity Standard for the Industrial Environment.
BS EN 61000-6-4
EMC Generic Emission Standard for the Industrial Environment.
ELECTRICAL SAFETY
BS EN 60950
Safety of Information Technology Equipment, including Electrical Business Equipment.
TEMPERATURE
BS EN 60068-2-1
Ab/Ae Cold Test -30°C.
BS EN 60068-2-2
Bb/Be Dry Heat +70°C.
VIBRATION
BS EN 60068-2-6
Ten sweeps in each of three major axes.
5 Hz to 8 Hz @ +/-7.5 mm, 8 Hz to 500 Hz @ 2 gn.
HUMIDITY
BS EN 60068-2-30
Db Damp Heat Cyclic 20/55° C @ 95% RH 48 Hours.
BS EN 60068-2-78
Cab Damp Heat Static 40° C @ 93% RH 48 Hours.
SHOCK
BS EN 60068-2-27
Three shocks in each of three major axes 15 gn in 11 ms.
Connection Diagram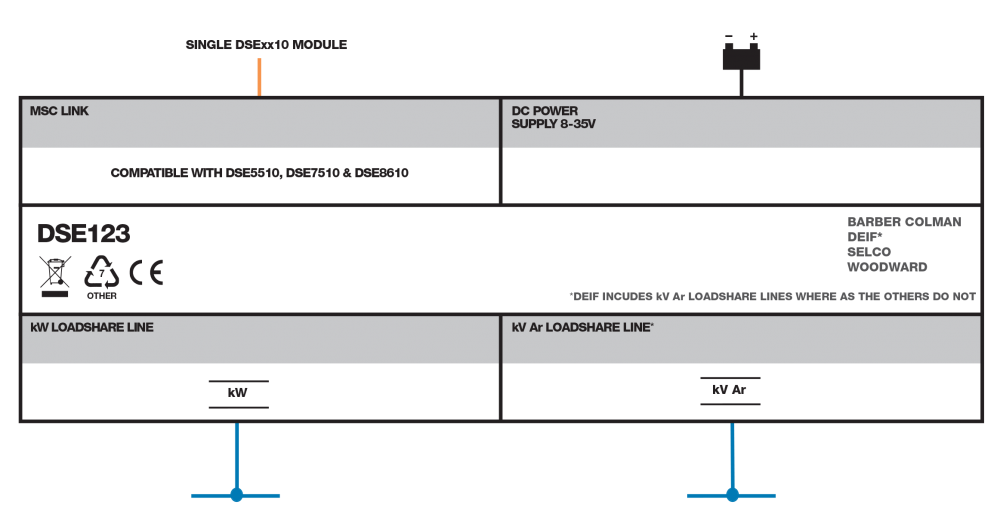 Product Variants
0123-01 - 123 ANALOGUE LOADSHARE LINE MODULE