Vehicle & Off-Highway Machinery Control Systems (M-Series)
DSE

M643
Programmable Controller (34 I/O)
The DSE M643 provides advanced programmable control options for vehicles and off-highway machinery and has been developed specifically for mobile applications. Sealed to IP67, the device incorporates a breather to allow the unit to equalise pressure and reduce condensation whilst filtering out liquids and other contaminants. The unit features Ethernet, USB, CAN and configurable I/O.

Inside the unit is a powerful 32 bit processor with a 220 MHz clock speed for outstanding operating response times. There are also 4 independent CAN interfaces, J1939, CAN Open and Raw CAN. Flexible user programming is provided via CODESYS 3.5.
Read More
OVERALL SIZE
49 mm x 240 mm x 190 mm (H x W x D)
1.46" x 9.45" x 7.48" (H x W x D)
WEIGHT
1.5 kg

Product Highlights
Key Features & Benefits
Key Features
Key Benefits
Controller specifically designed for mobile applications.
Outstanding performance across multiple environments.
Powerful 32 bit processor with 220 MHz clock speed.
Ensures the controller can handle the most complex applications.
16 configurable inputs with digital and analogue capability.
Gives the flexibility for tailoring operation requirements to meet system demands.
18 configurable outputs with digital, PWM and PWMi.
Multiple output options to cope with demanding system requirements.
4 independent CAN interfaces, J1939, CAN open and RAW CAN.
Allows for an efficient and flexible network design.
Ethernet interface for communications.
Increased speed and capacity for external communications.
Ruggedised die cast aluminium housing for IP67 protection.
Device can be mounted directly outside on the application.
Flexible user programming via CODESYS 3.5.
Industry standard programming software.
Specification
DC SUPPLY
8 V DC to 36 V DC


CURRENT CONSUMPTION
OPERATING CURRENT
<300 mA at 24 V without external loads


TOTAL INPUTS/OUTPUTS
34 (16 inputs /18 outputs)

INPUTS
Configurable
Data inputs (positive/negative)
Analogue inputs voltage 0 V to 5 V, 0 V to 10 V, 0 V to 32 V current 4mA to 20mA, Ratiometric, Resistive, Frequency, Phase, Fast Counter, Encoder

OUTPUTS
Configurable
2 A / 4 A
Digital Output high-sided, low-sided
PWM, PWMi
INTERFACES
CAN1..4
Can interfaces 2.0 A/B, ISO 11898
50kbit/s...1Mbit/s
J1939, CAN Open and Raw CAN

ETHERNET
10 Mbit/s / 100 Mbit/s, Duplex

USB
USB Host 2.0 (12Mbit/s)
STORAGE TEMPERATURE RANGE
-40 ˚C to +85 ˚C
-40 ˚F to +185 ˚F
OPERATING TEMPERATURE RANGE
-40 ˚C to +85 ˚C
-40 ˚F to +185 ˚F
(at full load)
PROTECTION RATING
IP67 (with mating connectors)
MOUNTING
4 x M6 bolts
Environmental Testing Standards
CE MARKING
EN 61000-6-2
Electromagnetic compatibility (EMC) noise immunity
EN 61000-6-4
Electromagnetic compatibility (EMC) emission standard
BS EN 60950-1: 2006 + A2: 2013
Safety of information technology equipment, general requirements

E11
UN/ECE-R10.05
EMC requirements for vehicles
ISO 11452-2
Noise Immunity with 100 V/m

ELECTRICAL TESTS
ISO 7637-2 (2004)
Pulse 1 - Severity Level III - Function State C
Pulse 2a - Severity Level III - Function State A
Pulse 2b - Severity Level III - Function State C
Pulse 3a - Severity Level III - Function State A
Pulse 3b - Severity Level III - Function State A
Pulse 4 - Severity Level III - Function State A
Pulse 5a - Severity Level III - Function State C
CLIMATIC TESTS
EN 60068-2-30
Damp heat, cyclic upper temperature 55 ˚C
EN 60068-2-78
Damp heat, steady state test temperature 40 ˚C/93% RH (21 Day Duration)
EN 60068-2-52
Salt spray test severity level 3 (vehicle)

MECHANICAL TESTS
ISO 16750-3
Test VII - vibration, random mounting location, vehicle body, vibration, sinusoidal
EN 60068-2-6
10... 500 Hz; 0.73mm/10g:10 cycles/axis
ISO 16750-3
Bumps 30 g/6ms; 24,000 shocks
Connection Diagram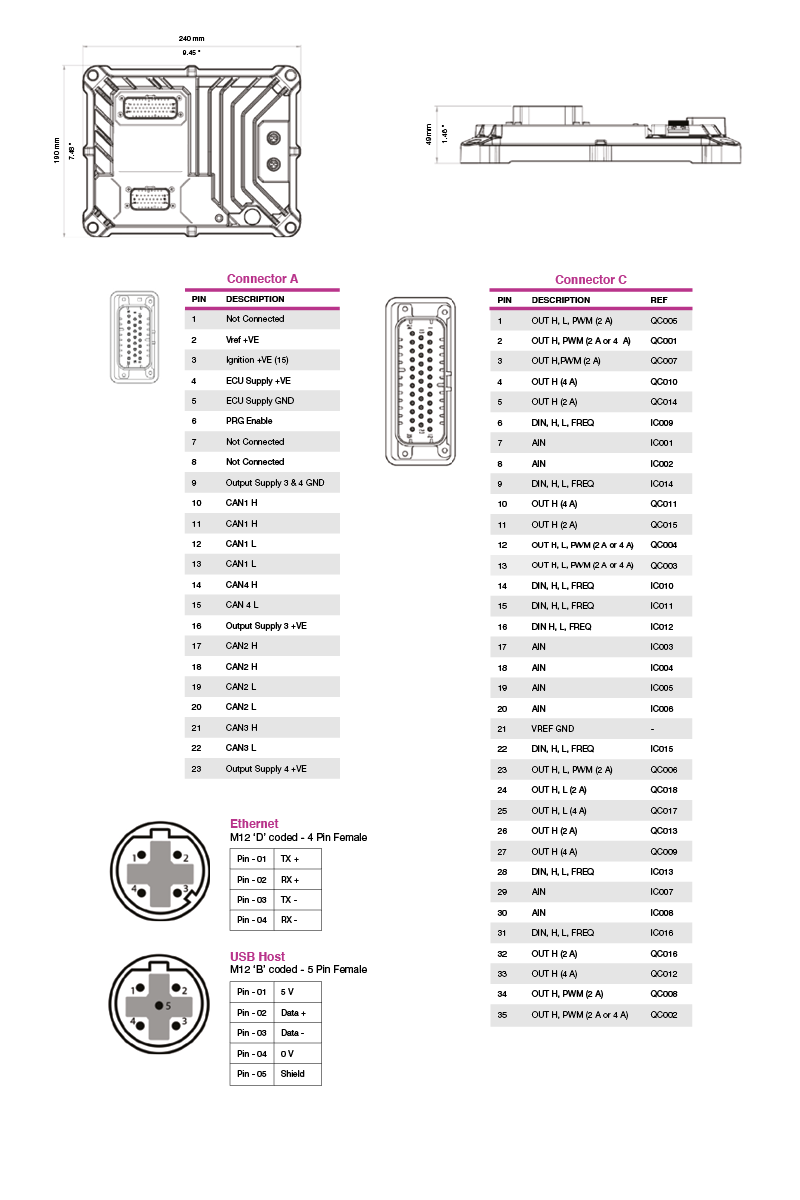 Product Variants
No product variants available