16 Set Load Sharing System - Iraq
Family Mall, Irbil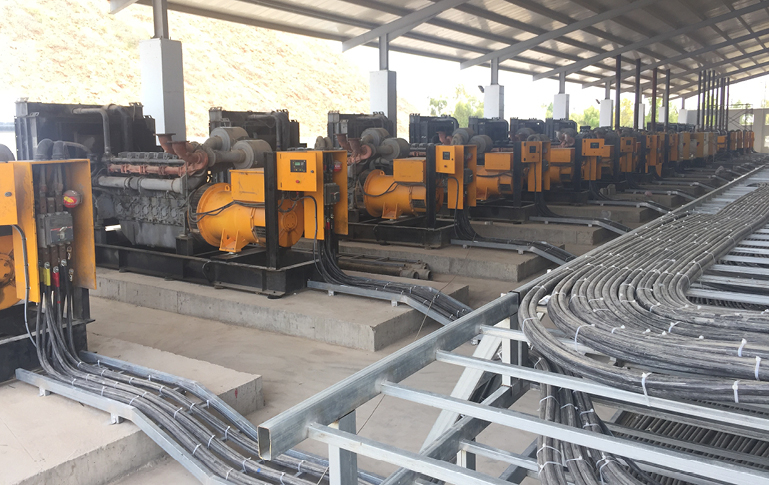 Family Mall Erbil is the biggest shopping centre in the Kurdistan Region of Iraq. Their emergency power was divided into separate power stations, which provided
emergency power for different parts of the complex such as the supermarket, fans, motel, shopping areas, etc.
A total of 16 diesel gensets were grouped in sets of up to 5 – the supermarket emergency power was supplied by 5 Caterpillar C32/1032 kva gensets running in parallel.

In 2014 the DSE Distributor was asked to change their controllers and parallel them with DSE8610 series, as they were not satisfied with the operation of the previous controllers. The success of the project led to further changes to the emergency power provision.

All 16 gensets were collected into a single area making one emergency power station, consisting of 12 Perkins/Leroy–Somer 4008/1100 kva and 4 Caterpillar C32/1032 kva gensets. They were then divided into 4 groups of 4 gensets. All 4 groups are now working in parallel with each other and the total produced output of 16MW is being transferred to the load when the mains power fails, which can be for more than twelve hours a day. The output voltage of each group is being stepped up to 33KV via its relevant transformer.

The 16 x DSE8610s are positioned remotely to the gensets in a control room and are supervised by a central PLC system. The System has only two selector switches, allowing for easy operation either fully automatic or manual/on load or on load demand, utilising the built-in DSE plc logic functionality within the control modules.